Date:
Sun, 11/03/2019 - 12:01am

to

Sat, 11/09/2019 - 11:59pm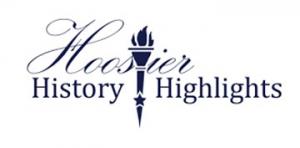 Indiana Quick Quiz
Name the 19th century industrialist who built 164 libraries in Indiana.
What is unusual about the old Montgomery County Jail in Crawfordsville?
Name the Indiana artist who lived in "The House of the Singing Winds" in Brown County.
Answers Below 
1868     Schuyler Colfax, of New Carlisle, Indiana, was elected Vice President of the United States, serving under Ulysses S. Grant.  He had earlier been elected to Congress and was Speaker of the House.  Nicknamed "Smiler" Colfax, he was described as "good-natured, kindly, cordial, and always diplomatic."
1908     A marble obelisk was dedicated as a memorial at the Tippecanoe Battlefield, site of the 1811 battle between United States soldiers and Native American warriors.  Ceremonies included a speech by Indiana Governor J. Frank Hanly and music by the Army Band from Fort Benjamin Harrison. 
1919     Young violinist Jascha Heifetz performed at the Murat Theater in Indianapolis.  At age 18, the Russian virtuoso had already gained fame.  His audience at the Murat requested five encores.  He went on to a long career.  When he died at age 86, he was considered by many to be the finest violinist of all time.  
1924     WFBM Radio went on the air in Indianapolis.  Owned by the Merchants Heat and Light Company, the station transmitted from a company building on South Harding Street.  The first program offered music interspersed with election returns.  Today the station is on the air as WNDE.
Did You Know?
     The first WFBM broadcast was on election night, November 4, 1924.  The relatively few people who owned radios heard live reports on the vote count.  They learned that Calvin Coolidge had been elected President of the United States, perhaps in reponse to the campaign to "Stay Cool with Coolidge."  
1967     Attorney and Civil Rights Leader Richard Hatcher was elected Mayor of Gary, Indiana.  He was one of the first African Americans to be elected mayor of a large American city.  Born in Michigan City, he was the youngest of 13 children.  He earned his law degree from Valparaiso University.  In  five terms as mayor, he became known for developing innovative approaches to solving urban problems.  This statue of Mayor Hatcher was recently unveiled in front of the City Hall in Gary.  

1988     Indiana voters approved by 62 percent a referendum on establishing a state lottery.  Scratch-off ticket sales started in October of 1989.  Since then, Hoosier Lottery players have purchased $23 billion in Lottery products and have won $13.9 in prizes.  
HOW IMPORTANT IS THE UPCOMING CENSUS?
  Indiana lost a seat in the United States House of Representatives after Census 2000 - leaving us with nine representatives.  The Census  also has an impact on Presidential elections since each state's number of electoral votes is equal to the number of representatives plus senators.  
HOOSIER QUOTE OF THE WEEK
"Teaching is the royal road to learning."   - - Jessamyn West
ANSWERS:  1.  Andrew Carnegie  2.  It is a round (rotary) jail  3.  T. C. Steele
NOTE:  The Statehouse will be closed on Election Day, Tuesday, November 5
Watch HOOSIER  HISTORY HIGHLIGHTS live from the Indiana Statehouse each Friday morning on social media:
Facebook @ Indiana Statehouse Tour Office and Education Center
Instagram @ INStatehouseTourOffice
Twitter @ INSthouseEdCntr
INDIANA STATEHOUSE TOUR OFFICE - Indiana Department of Administration
Guided tours of the Indiana Statehouse are offered Monday through Saturday.  For more information, check our website listed at the bottom of this page.
(317) 233-5293 | captours@idoa.in.gov