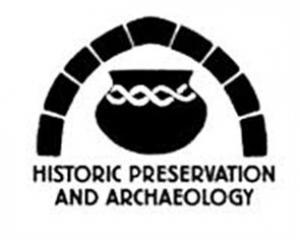 In 2017, Aaron Harth, Lisa Kelley, Tanya Faberson and Andrew Martin investigated Evansville Bee Slough Dump (discussed above), which provided valuable information on land use, consumption, and lifeways of Evansville residents in the early 1900s. That same year, Kelley and Martin oversaw a project that investigated an area of the city known as Baptisttown, which was the center of the African-American community in post-bellum Evansville. The archaeological investigations completed by CRA provided insight on the kind of goods available to Baptisttown families as they adjusted to post-war life in Evansville. Both of these provide important reference materials for historical archaeology and archaeology in an urban setting. 
We know you will join us in congratulating our archaeological colleagues at CRA!
The DHPA's Beth McCord (left) and Rachel Sharkey (second from right) with CRA staff (left to right) Andrew Martin, John Dickerson, Aaron Harth, Beau DeBoer, and Lisa Kelley after the awards presentation ceremony.