One of Shaw's earliest plays, it is representative of Shaw's gift for delivering biting social criticism with humor. Promethean's production will be performed in a brand-new world premiere adaptation by Melanie Spewock that streamlines Shaw's text and makes it more woman-centric, focusing on the mother-daughter relationship between Mrs. Warren and her daughter Vivie.
 
Michael D. Graham, the former Artistic Director of Piccolo Theatre, who directed the Chicago premiere of CASA VALENTINA at Pride Films and Plays last August, is directing. MRS. WARREN'S PROFESSION will be performed at Otherworld Theatre, 3914 N. Clark St.,  from February 28-March 29, 2020. Press opening is Monday. March 2 at 7:30 pm following previews from February 28.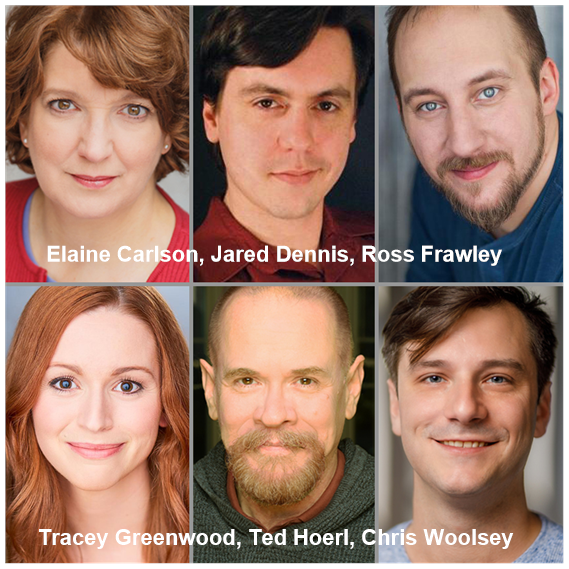 Graham's cast includes Promethean Theatre Ensemble member Elaine Carlson in the title role of Mrs. Warren. Carlson was seen most recently in Promethean's productions of MAD BEAT HIP & GONE, and in THE MADWOMAN OF CHAILLOT as Countess Aurelia.  She received a Jeff award nomination for THE LION IN WINTER with Promethean. Also in the cast are ensemble member Jared Dennis (George Crofts), Tracey Greenwood (Vivie Warren), Chris Woolsey (Frank Gardner), Ross Frawley (Praed), and Ted Hoerl (Rev. Samuel Gardner). Understudies are Rosalind Hurwitz (Mrs. Warren), Corrie Riedl (Vivie Warren), and Cody Robison (Frank Gardner).
The design and production team includes Promethean Artistic Associates Carrie Campana  (Costume Designer) and Cate Gillespie (Dialect Coach), along with Conor Clark (Set Designer), Ellie Humphreys (Lighting Designer), Colin Kovarik (Sound Designer), Maya Jain (Props Designer), Si Squires-Kasten (Stage Manager).
 
Tickets are $30 general admission (seniors $25, students and military personnel $15) and are on sale now at https://dime.io/events/MrsWarrenPTE.
 
BIOS
 
George Bernard Shaw (Playwright) was an Irish playwright, socialist, and a co-founder of the London School of Economics. Although his first profitable writing was music and literary criticism, in which capacity he wrote many highly articulate pieces of journalism, his main talent was for drama. Over the course of his life he wrote more than 60 plays, including MAN AND SUPERMAN, SAINT JOAN, MAJOR BARBARA, HEARTBREAK HOUSE, CANDIDA, and PYGMALION. Nearly all his plays address prevailing social problems, but each also includes a vein of comedy that makes their stark themes more palatable. In these works, Shaw examined education, marriage, religion, government, health care, and class privilege.  It is a combination of the dramatic, the comic, and the social corrective that gives Shaw's comedies their special flavor.
 
Melanie Spewock (Adapter) worked in arts education for 37 years to support her dramaturgy habit. Her favorite thing is bringing classic plays to modern audiences, and she is thrilled to be working with Promethean Theatre for the first time. She is grateful for the public domain, which allows her to collaborate with fabulous playwrights. Melanie lives in Minneapolis with her husband, three cats, and a large box of blue pencils.
 
Michael D. Graham (Director) is an Artistic Associate at Pride Films & Plays, where he directed CASA VALENTINA; HOLDING THE MAN; TEN DOLLAR HOUSE; and BARNEY THE ELF. Other favorite directing credits include: THE MYSTERY OF IRMA VEP; THE MISANTHROPE; SMASH! (adapted from Shaw's THE UNSOCIAL SOCIALIST); PARALLEL LIVES; and THE MEMORY OF WATER for Piccolo Theatre; SPREADING THE NEWS (Halcyon Theatre); EXPATRIATES (the side project); METROPOLITAN OPERAS (ActOne Studios); THE YEARS (Appetite Theatre); and, BUTLEY (Hubris Productions). In addition to directing, Michael has worked in the Chicago area as an actor, producer, playwright, dramaturg, dialect coach, sound designer, props designer, and stage manager.
 
LISTING INFORMATION
World Premiere Adaptation
MRS. WARREN'S PROFESSION
by George Bernard Shaw
adapted by Melanie Spewock
directed by Michael Graham
February 28-March 29, 2020
Press Opening: Monday, March 2 @ 7:30pm
Thursdays-Saturdays at 7:30 pm, Sundays at 2:30 pm, Mondays March 2 and 16 at 7:30 pm
Tickets: $30 general admission (seniors $25, students and military personnel $15).
Tickets available at https://dime.io/events/MrsWarrenPTE
Info at www.prometheantheatre.org
 
Otherworld Theatre
3914 N Clark St
Chicago, IL 60613
 
A fresh take on Shaw's controversial drama. Young Vivie Warren, emancipated, intelligent, and self-sufficient is astounded to learn her mother rose from poverty to riches through prostitution---and also that she is now part owner and operator of a chain of brothels. Mrs. Warren ably justifies her past---attacking a hypocritical society that rewards vice and oppresses virtue. Vivie, respecting her mother's courage, accepts her past but will she accept her present?