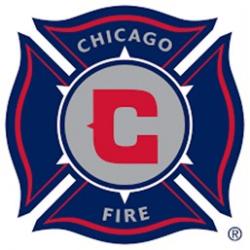 Despite outshooting Saint Louis 20-6, including a 9-3 advantage in shots on target, and winning the possession battle (67-33), the two goals conceded by the Fire against the run of play in the first half proved to be the difference in Tuesday's match.
Beginning the game on the front foot, the Fire created numerous chances to take the lead early within the first five minutes of the match. In the first minute of the game, midfielder Dax McCarty received the ball on the edge of the 18-yard box and blasted a volley that forced a strong save from goalkeeper Tomas Gomez.
Shortly afterward, forward CJ Sapong powered his way into the box and hit a low effort that was parried away by Gomez. Nikolić pounced on the rebound and hit another effort on target that was deflected wide, landing to midfielder Nicolás Gaitán who had his follow-up attempted pushed away from the target by a last-ditch challenge.
Following the early offensive output from the Fire, Saint Louis scored the game's opening goal from a counter attack in the 17th minute when forward Austin Martz connected with a cross and nodded his header into the goal from close range.
Moments later, the home side doubled its lead from a set piece when midfielder Guy Abend connected with a curling free kick in the 18-yard box and headed the ball into the back of the net in the 21st minute.
Approaching halftime, the Fire responded with another chance on the break when Gaitán ventured forward on a threatening run and played the ball into the box for Sapong. Latching onto Gaitán's pass, Sapong hit a first-time effort that forced another save from Gomez in the 38th minute.
To open the second half, the Men in Red continued to create chances to score when midfielder Fabian Herbers cut inside on his left foot and blasted a curling effort that yielded a solid diving save from Gomez in the 55th minute.
The Fire eventually broke through from a penalty kick less than 20 minutes later after midfielder Djordje Mihailović was brought down inside the box. On the ensuing spot kick, Nikolić confidently stepped up and blasted the ball into the top right corner of the goal to cut into Saint Louis' lead in the 73rd minute.
Pushing numbers forward, the Fire produced another chance to find the equalizer later in the match when Sapong's effort from inside the 18-yard box was deflected away from the target by a sliding challenge in the 90th minute.
Looking ahead, the Fire will resume league play on Saturday, June 22 when the team takes on Real Salt Lake at SeatGeek Stadium. Set to begin at 7:00 p.m. CT, the match will be broadcast live on ESPN+ and transmitted locally in Spanish on Univision Radio WRTO AM 1200.
 Box Score:
 Chicago Fire 1:2 Saint Louis FC
Scoring Summary:
SLFC – Martz (Cicerone) 17'
SLFC – Abend (Hilton) 21'
CHI – Nikolić (Penalty Kick) 73'
 Misconduct Summary:
CHI – Kappelhof (Caution) 19'
SLFC – Fewo (Caution) 71'
 Chicago Fire: GK Kronholm, D Campos (Bronico 85'), D Marcelo, D Kappelhof (Lillard 25'), Edwards 64 (Corrales 67'), M McCarty ©, M Mihailović, M Sapong, M Gaitán, M Herbers, F Nikolić
Subs not used: Sanchez, Gutjahr, Martinez, Moreno
 Shots: 20 Shots on goal: 9 Fouls Committed: 14 Fouls Suffered: 10 Offsides: 0 Corners: 8
 Saint Louis FC: GK Gomez, D Bahner, D Fink, D Kavita, D Gee (Fewo 69'), M Abend (Calvert 63'), M Umar, M Hilton, F Martz, F Dikwa, F Cicerone (Dacres 89')
 Subs not used: Fenlason, Reynolds, Vlastos, Keller
Shots: 6 Shots on goal: 3 Fouls Committed: 10 Fouls Suffered: 14 Offsides: 2 Corners: 0
Referee: Greg Dopka
Assistant Referees: Art Arustamyan, Matthew Rodman
Fourth Official: Jacob Post
Attendance: 4,456
Chicago Fire Head Coach Veljko Paunović
On the result…
"We are very disappointed. We let ourselves down today. We said that it wasn't going to be easy. There are no excuses for this performance even though that we wanted it and we created a lot of opportunities. But, at the end of the day, so far this year has been pretty much the same. We create a lot of opportunities, we dominate, we don't convert, and then on the first counter or first opportunity that our opponent has we concede a goal. It's a mix of sometimes a causal approach and an immaturity that we have in some moments of the game, some lapses that are unacceptable at this level of competition and any other level that we are performing in. So, we have to fix things. We have some time but it's definitely not what we want and it's time for us to also make decisions and move forward."