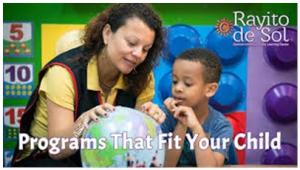 Aiming to prepare children to excel as young leaders, the first-class educational early childhood facility offers an exclusive curriculum to children from six weeks to six years in age that stimulates creativity and encourages critical thinking. Founded in Minneapolis by Luisa Fuentes in 2003 while seeking a Spanish-immersion school for her then three-year-old son, the Peruvian mother created Rayito de Sol, meaning Little Ray of Sun, to offer a year-round Spanish immersion program where kids can learn science, math, art, music and cultural development while being fueled with bilingual education, Spanish culture and diversity. All programs at Rayito de Sol follow all standards set by the National Association for the Education of Young Children (NAEYC) and integrate the STEAM curriculum in their daily activities. 
"We aim to prepare each child for continued success as they advance on their academic journey. By the time that they graduate, our students are able to identify the 21 countries in the world where Spanish is the first language and their respective capitals," says Fuentes. "By incorporating Latino food, music, holidays and traditional dress into our comprehensive programing, we encourage our children to think globally."
The new Chicago facility is licensed for 187 students, and children are separated into classrooms designated by age. All classrooms feature bright colors, natural light, interactive and educational entertainment elements and accommodate both individual and group learning, with authentic design elements from many Spanish-speaking cultures. Children are served completely organic, balanced meals and taught the importance of being eco-conscious and connecting with nature through time spent exploring the playground on property. Staff ratios range from one childcare professional for every four infants, to one per 10 preschoolers aged three to six. Children that enter the program full-time at three-years-old will become fluent in Spanish by the time they start kindergarten.
Rayito de Sol also offers a Summer Camp Spanish Immersion Program that includes their exclusive curriculum and incorporates additional indoor and outdoor activities such as yoga, professional Latin dance, drama, music and piñata parties monthly.
For more information on Rayito de Sol, please visit www.rayitods.com or call 312.819.5077. To schedule a tour of Rayito de Sol, please visitwww.rayitods.com/contact-rayito.
###
About Rayito de Sol
Founded in Minneapolis in 2003 by mother and native Peruvian Luisa Fuentes and brought to Chicago as the first of its kind in 2019, Rayito de Sol is an award-winning Spanish immersion school and daycare that was born with a vision to provide children access to cultural awareness, diversity, inclusion and multiple language acquisition at the earliest stages of learning. Rayito de Sol is the proud recipient of many awards including the 2014 Diversity in Business Award, the 2013 Minnesota Family Business Award and the 2012 Small Business Success Stories Award. The facility features an exclusive curriculum elevated with first-class childcare services, offering parents and participants a unique alternative to integrate their childcare with bilingual language immersion in a licensed, accredited program. For over 15 years, Rayito de Sol has provided education and care for children ages six weeks to six years old, embracing the critical stages of life in which language acquisition are most readily developed.