This is the 5th year for the fundraiser and participation was at its highest ever. Executive Director, Nanda Danitschek, looks forward to next year saying, "next year, we hope to double our numbers, and with more strategic planning and organization, we will get there! Our race committee is empowering and collaborative and along with the board, we all make a fantastic team."  
Missions Against Violence 2019 brought 75 participants, 28 sponsors, and 23 organizations providing prizes. this year, both young and more seasoned. Prizes
were awarded for the youngest and most seasoned participants, best costumes, best mother/son costume, and of course, first and second place for the 5K run! Since the event only attracted 7 men brave enough to walk the mile in heels, where 5 of those were young boys, the staff awarded prizes to all!
Another hit for the day was Stepping Stone's pie throwing event. Board member, Frank Lindquist, and Chief Deputy, Ron Heeg of the La Porte County Sherrif's Office, took pies to the face from excited participants. Once the pies starting flying, many students jumped in on the fun and a free-for-all was on. On the other side of the field kids were also enjoying getting superhero tattoos, hero bracelets and masks, and playing field games. Of course there was also plenty of snacks and drinks provided by Jimmy Johns and Stepping Stone staff and race committee to keep everyone's energy high.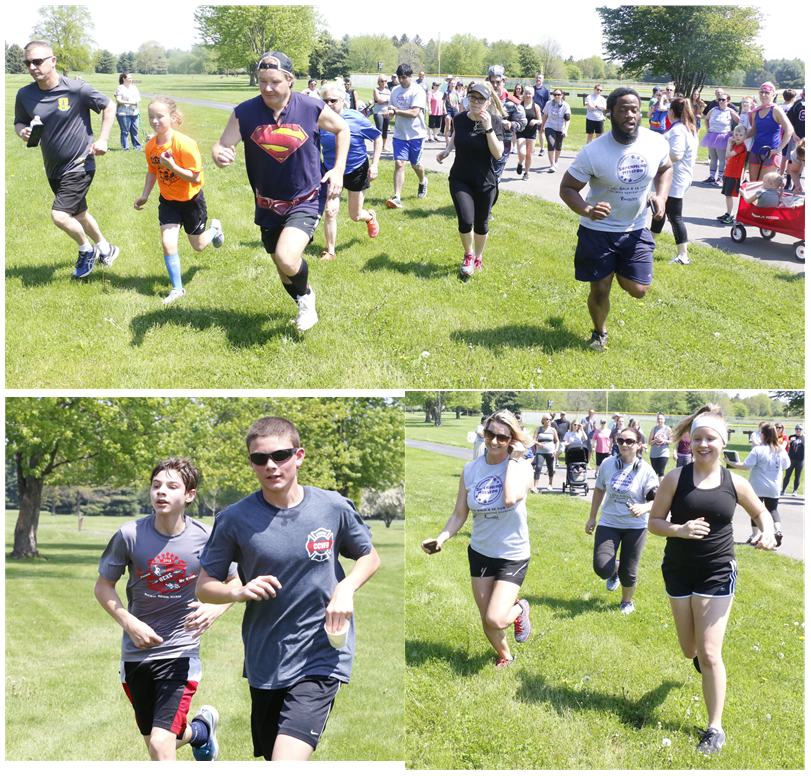 Stepping Stone Shelter was founded in 1983 and continues to be the only shelter serving victims of domestic violence and sexual assault in La Porte County. As the longest running shelter in Northwest Indiana, Stepping Stone is grateful for the generosity and support of the community which makes the work possible. Over the next year the organization aims to expand their outreach and educational programming with special emphasis on servicing South County areas that are often left out on the outskirts of reach. 
You can support Stepping Stone Shelter by contacting Executive Director, Nanda Danitschek, by email at nanda@steppingstoneshelter.org, or by calling 219-871-6895 to set up a meeting. 
All photos  were taken by Bob Wellinski.