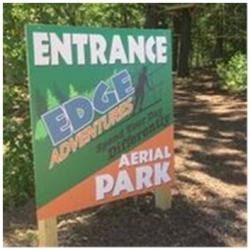 One of Northwest Indiana's newest, most challenging parks is tucked into a secluded forest area just off Route 30.  Edge Adventures Deep River Aerial Park, a tree to tree adventure course featuring more than 50 treetop obstacles, is next door to Deep River Waterpark.  In fact, if you're floating along on the Lazy River at Deep River Waterpark, you can look up and see people in the trees. 
Edge Adventures Aerial Park shares a driveway with Deep River Waterpark.  Instead of driving into the large parking lot, turn to the right and you'll see the sign.  Park your car and stroll into the woods and you'll see the aerial obstacle courses. 
There are seven courses on the property, color coded by difficulty: yellow is the easiest, then green, brown, blue and the hardest, purple.  The black course is zip line only.  In addition, there is a junior course for the smaller set.  Before starting, everyone gets instruction, then everyone gets a helmet, a harness and gloves.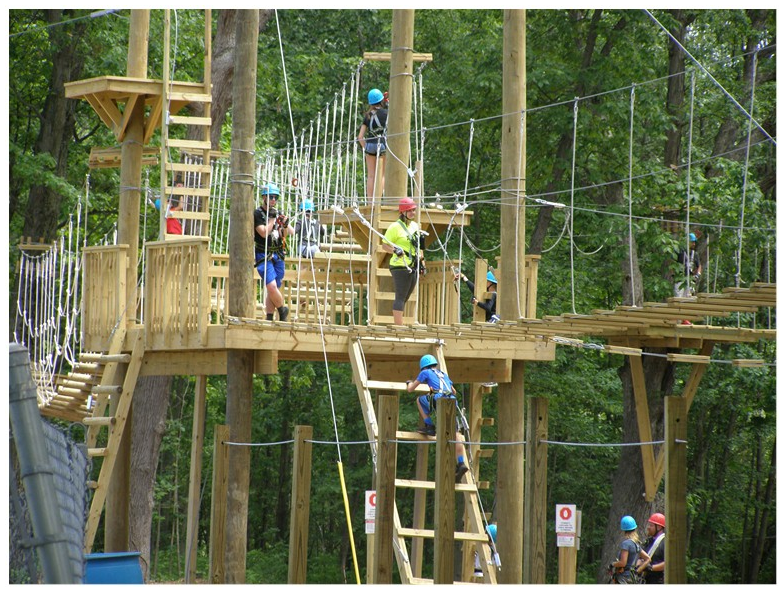 The Quick Trekker continuous belay system keeps Adventurers connected to our safety line from start to finish.  Everyone is always hooked in.  In 2018, Sally Burch, Director of Operations told me. "Visitors who have tried zip lining while on vacation somewhere, are always amazed when they put on a harness because they've just had to wear a belt elsewhere and they realize how unsafe they were."  She said her staff is constantly watching as they roam the park so they can get someone down who might be having a difficulty.  
Minimum age for the Aerial Park is 8, minimum weight 40lbs.  Maximum weight 275lbs.  Hands must reach 66″ high with feet flat on the ground.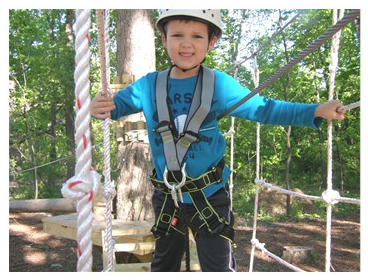 All of the self-guided courses start from the same tree, with 2 courses starting from each ladder.  There are color-coded signs explaining difficulty.  As people go from tree to tree 20 to 70 feet in the air, they encounter a different kind of obstacle after every tree.  
The park is filled with tall, well-developed trees.  When the park was built, no trees were removed since the courses were designed to fit the existing trees.  They did clear some of the ground cover and added wood chips. 
Deep River, which opened in May, 2017, is their third park.  The first, Koteewi Aerial Park in Noblesville. opened in July, 2016.  The second, Rum Village Aerial Park in South Bend, opened in August 2016.  The next park will be in Wooddale, Illinois.  All three are located inside or adjacent to an existing park.  Deep River is located at 9001 E. Lincoln Hwy, next to Deep River Water park.
Edge Adventures Deep River Aerial Park is open every day except Tuesday from 10 a.m. until 6 p.m.  Last start time is 4 p.m.  They take 20 people every 30 minutes.  The last start time is 4 p.m.  In addition to individuals, the park will take groups from 10 to 150 people, corporate, clubs, teams, birthday parties, etc.  
Rates are by the hour and include:
3 Hour Adventure, $49 Adult and $39 8-12 years old
2 Hour Adventure, $39 adults and $29 8-12 years old
All Day Adventure – $79 9 am – 7pm (8 years and older)
! Hour Kids Park Adventure – $10 for 1 hour
Reservations are encouraged on the website, www.edgeadventureparks.com/deep-river.