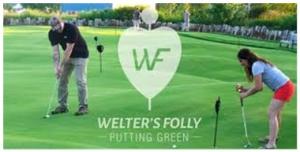 PGA Professional Mike Laughner, will lead the classes for pint-sized putters. The Head Professional at 4 different golf facilities over a 50 year career, Laughner welcomes the opportunity to give back. "I have always been excited to pass along my love for the game of golf, through my instruction of the golf swing and the life skills that the game has taught me," he says.
While Journeyman's handcrafted organic spirits have been collecting accolades and earning a loyal following among Whiskey enthusiasts across the country, locally they've built a reputation with a much different demographic—families.
"Family-friendly distillery" might sound like an oxymoron, but for proprietors Bill and Johanna Welter it's a natural fit. "Journeyman is more than a business to us. It's a labor of love" explains Bill. "We want to build something that will be here for future generations."
The Scottish-inspired, 30,000 square foot, putting green is just one example of Welter's willingness to invest in the future. Conceived after a hike through the Sand Hills of Wisconsin with designer Craig Haltom, the course features distinctive (and challenging) mounding. "Welter's Folly reminds me of the Himalayas putting green at St Andrews, Scotland," notes Laughner. "Learning to putt the Folly well, will make any golfer a better player!"
Sunday morning golf classes will be offered at no cost for children ages 7–15, June 9th through August 11th at 11:30am (ET). Pre-registration is required and class size is limited. No purchase necessary. Welter's Folly is open to the public daily. Visit www.journeymandistillery.com/golf for details.
Founded in 2010, Journeyman Distillery crafts, bottles, sells, and serves organic and kosher certified spirits at the historic Featherbone Factory in Three Oaks, Michigan. The distillery prides itself on using the highest quality grains sourced from Midwestern organic farmers in its award-winning spirits as well as at its Staymaker restaurant. Journeyman products are distributed in eleven states across the country and available for purchase direct from the distillery. Learn more and find your spirit at www.journeymandistillery.com.