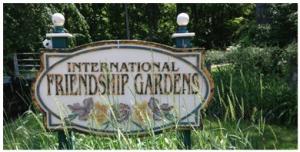 The Friendship Botanic Gardens (a volunteer-based, not-for-profit organization) is community treasure, and an oasis of formal gardens and nature trails tucked in an old-growth forest surrounding Trail Creek in Michigan City, Indiana. Every year, they introduced a new a slate of events and activities: new gardens, music concerts, educational programs and health and harmony with nature.
The Friendship Botanic Gardens is a place where forested woodlands, sprawling open spaces, and cultivated gardens spill over 100 acres of land that have been a tourist destination since 1936. Gardens are tucked throughout the beautiful valley of Trail Creek.
 Visit Lake Lucerne, a spring fed lake and home to muskrats, geese and turtles. The woods are home to deer, raccoons, groundhogs, squirrels, foxes, coyotes and wild turkeys. The songs of birds are heard in the quiet of this valley surrounded by hills. The grounds are accessed by walking earthen trails and lawns.
Located at 2055 E US Hwy 12, Michigan City, just east of Blue Chip Casino. Call or click: 219-878-9885 www.friendshipgardens.org.
Story by Sue Baxter