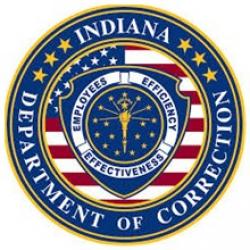 Lieutenant Moon, began his career with the Department in 2004. He is currently working towards a Bachelor of Science Degree in Criminal Justice through Liberty University Online. Lieutenant Moon has also completed Department of Correction Supervisory Courses, and is currently enrolled in the Indiana Department of Correction Leadership Academy.
Lieutenant Rice started her career in 2013. Lieutenant Rice has been recognized as an Employee of the Quarter and is a Field Training Officer for new officers. She has a Bachelor's Degree in Criminal Justice.
Lieutenant Redden began his career in December of 2006. He is a Certified Firearms Instructor and is a Quick Response Team Instructor.
Warden Neal stated, "With this promotion comes more responsibility, and these staff members have demonstrated they are ready for the challenge. Congratulations to each of you on your promotions and I look forward to you moving the Department in a positive direction".
Pictured left to right are recently promoted Lieutenants Mike Moon,
Terry Redden and Shirley Rice along with Major Jason Nowatzke