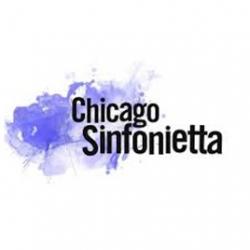 Jim Hirsch, one of Chicago's best known and most beloved advocates for the Chicago music scene, recognized for growing the careers of artists young and old, expanding audiences and creating diverse programming, will step down from the Chicago Sinfonietta after 15 years of service as Executive Director and CEO effective July 1, 2020. Hirsch's career, spanning four decades, also includes serving as Executive Director at the Old Town School of Folk Music for 18 years, and General Manager of the iconic Chicago Theatre for four years.
"As I begin my last lap as Executive Director and CEO, I am grateful for being given the chance in 2004 to become a member of the Sinfonietta family. This work has been challenging, meaningful, and fulfilling and I have been so fortunate to have worked with Paul Freeman, Mei-Ann Chen, Michelle Collins, my long-time administrative partner Courtney Perkins, and all the wonderful board members, staff, volunteers, and our brilliant musicians. I am excited about the next chapter," Hirsch said.
A native of Northbrook, Illinois, and currently the South Loop, Hirsch grew up under the watchful eye of his mother, a civil rights advocate and avid lover of the arts. His mother's passion for equality for all inspired Hirsch to become an advocate for social justice at an early age. His love of music sprung from watching the Beatles on the Ed Sullivan Show, igniting a desire to learn to play the guitar. Hirsch' early career included stints as performer, teacher, and recording artist. He was hired by the Old Town School of Folk Music, starting as an instructor, going onto become a part-time administrator and eventually Executive Director.
At the time, the Old Town School of Folk Music was greatly in debt and in need of more diverse programming. The city's African American and Hispanic populations were growing, and yet the programming on the arts scene in Chicago was not reflecting that wave. Hirsch, feeling that the arts are for everyone and knowing that various cultural treasures needed to be presented, changed the personnel, the programming and more, solidifying the Old Town School of Folk Music as an inclusive and celebrated arts organization, one of the largest in the country and the most diverse. The Chicago Tribune in 1985 called him the "Lee Iacocca of folk music" for his work turning the organization around. Hirsch helped grow the organization's budget from $300,000 in 1986 to $7 million in 2000; and led the charge on a $10.2 million capital campaign that funded the organization's expansion to the new Chicago Folk Center, a 43,000 square-foot building that the City of Chicago donated to the School. With the help of the board of directors and staff, he established a $1 million endowment fund.
In 2000, he left to take the position of General Manager of the Chicago Theatre. There, he worked with legends including Aretha Franklin, Robin Williams, Prince and more. In this role, he managed the 3,600-seat venue and produced more than 500 events including concerts, comedy shows, trade events, Broadway-style shows and more. He also served as the Vice President of the Chicago Association for the Performing Arts during those years.
In 2004, he began a successful 15-year role as Executive Director of Chicago Sinfonietta. The organization's mission statement, "to address the disconnect between the utter lack of diversity in orchestras and the vibrant, nuanced, communities for which they play, making classical music accessible for everyone" was one that greatly appealed to Hirsch. Working with Founder Paul Freeman and a small but determined staff, he helped develop several new initiatives during his tenure including Project Inclusion, a fellowship program that seeks to address the dearth of minority musicians and conductors performing in U.S. orchestras, and the Audience Matters and SEED Programs, which serve elementary and high school age student in Chicago Public Schools. These professional development and education programs have since produced nine conductors working in top tier organizations around the world, including the Charleston Symphony, Memphis Symphony Orchestra, and San Diego Symphony, to name a few, the placement of numerous musicians performing in orchestras and as freelance professional musicians.
"My career wouldn't be possible without Chicago Sinfonietta and the Project Inclusion Fellowship. The fellowship made me a better conductor on and off the podium, taught me professionalism in the industry, helped me find my identity as an artist, and gave me a platform to be noticed, but most importantly, the orchestra, staff, other fellows, and administration became my family. They took me in, raised me, and saw to my growth, during and even after my time in the fellowship," said Kellen Gray, Assistant Conductor of the Charleston Symphony and Chicago Sinfonietta Project Inclusion Fellowship Graduate. "Jim Hirsch has been central to that growth. Throughout the fellowship, and to this very day, he is a mentor, advisor, sounding board, and confidant. His support is endless, and I hope I can someday be for someone what he has been to me."
Hirsch guided the Sinfonietta through the retirement of Founding Music Director Paul Freeman in June of 2011; managed the appointment of Freeman's successor, Mei-Ann Chen in July of 2011; and was instrumental in the orchestra's re-location from River Forest to Naperville for its west suburban concert series.
Hirsch' ability to help curate concerts and related programs that connect with the organization's audiences was due to a deep understanding and appreciation for the fact that music enters a transformational area, touching people at a deep emotional place that can change, and open minds as to the power of diversity and inclusion. He has worked throughout his career to make the arts accessible and equitable for all.
"There are only a few places where we can come together with all of our differences to celebrate arts and culture and the uniqueness of what we each bring to the community, and Chicago Sinfonietta has always embraced that notion," said Hirsch.
His achievements for Chicago Sinfonietta consistently display his leadership, tenacity and forward thinking. He helped the organization avert financial disaster when he arrived in 2004, quickly finding funding through grants and individuals to pay down a $500,000 debt. He helped recruit new board members increasing the group's capacity, and in 2016 Crain's Chicago Business recognized these efforts by naming the Chicago Sinfonietta board as the "City's Most Diverse Board of Directors." In 2016, the organization was selected by the John T. and Catherine D. MacArthur Foundation to receive the MacArthur Award for Creative and Effective Institutions, the "genius award" for non-profit organizations and the only orchestra in the country named that year. This same year, Chicago Sinfonietta also received the Chicago Innovation Award.  
"Risk-taker. Team builder. Dedicated professional. These are but a few of Jim Hirsch's well-known characteristics. A tremendous partner and fortifying sounding board, Jim has been a member of the Sinfonietta family for more than 16 years. Never one to back away from the daring and unusual, he has allowed me and the orchestra the luxury to dream and create over the years," said Chicago Sinfonietta Music Director Mei-Ann Chen. "Jim has been a positive force of unwavering support in all our efforts, from our unusual collaboration with MuccaPazza to my artistic vision of Project W and the Project Inclusion Conducting Program. During his tenure, the Sinfonietta has been awarded the prestigious MacArthur Award, and received increased national exposure. The Sinfonietta'saccomplishments speak volumes about Jim's abilities. His commitment to the musicians, me, the staff and Board is nothing short of inspirational. Thank you Jim, for being you. You are a dear and trusted friend and will be missed. While in the future you may not be a part of the day to day of the Sinfonietta, know that you are forever an integral part of the musical life of this organization."
In addition to his work with Old Town School and Chicago Sinfonietta, Hirsch has served as a member of NARAS (Grammy) Awards and Nominations committee and as a grant panelist for the National Endowment for the Arts. He produced a nationally syndicated radio program for NPR and has released three commercial recordings. Hirsch was chosen by Crain's Chicago Business for their annual 40 Under 40 article that honors Chicago's up-and-coming business executives under 40 years of age and was named Chicago Arts Entrepreneur of the Year in 1996 by Columbia College. In 1998, he was chosen as one of Chicago Magazine's Chicagoans of the Year.  In 2011, Hirsch received a Midwest/Chicago Emmy Award for Best Arts and Culture Documentary as Co-Producer of Chicago Sinfonietta: Sounds of Diversity. He was selected by Musical America as one of 30 Movers & Shapers in 2017.
The Chicago Sinfonietta board of directors will announce its process to select a replacement for Hirsch later this summer.
About the Sinfonietta
Now in its 32nd year, Chicago Sinfonietta has pushed artistic boundaries to provide an alternative way of hearing, seeing and thinking about a symphony orchestra and is dedicated to promoting diversity, inclusion, racial and cultural equity in the arts. Each concert experience blends inventive new works with classical masterworks, each from a diverse array of voices, to entertain, transform and inspire. In 2016, Chicago Sinfonietta was the proud recipient of John D. and Catherine T. MacArthur Foundation's prestigious MacArthur Award for Creative and Effective Institutions (MACEI). This award recognizes exceptional organizations that are key contributors in their fields.
The orchestra was founded by Maestro Paul Freeman to address disconnect between the utter lack of diversity in orchestras and the vibrant, nuanced, communities for which they play. For more than 30 years, Chicago Sinfonietta has made it their mission to represent the city of Chicago, reflecting that vibrancy on stage and in their programming, making classical music accessible for anyone. In everything they do, Chicago Sinfonietta are inspired by founder Paul Freeman (1936-2015). The orchestra's 32 years have been highlighted by six European tours, two Kennedy Center performances, two Millennium Park concerts attended by over 19,000 people and 16 recordings, including Project W, which was released in March 2019.