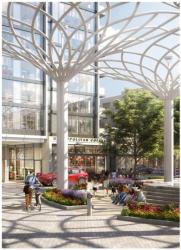 The 2019 summer calendar includes:
Sunset Outdoor Silent Yoga
o   Yogis unite! Lincoln Common welcomes all levels to an outdoor silent yoga practice with Resonation Space every Monday and Wednesday June 17 through August 28 at 7:30 p.m. An instructor from the silent yoga and fitness events company will guide each session via wireless headset technology while participants relax to a live DJ's downtempo mix. Single entry tickets, group tickets and season passes are available for purchase online here.
Equinox Pop-Up Workouts
o   Get fit, Lincoln Park! Equinox will be hosting complimentary outdoor workouts for guests 18 years and older every Tuesday at 6 a.m. and Saturday at 9 a.m. beginning Tuesday, June 18 through the end of August. Offering some of their most popular classes like The Cut and Best Butt Ever, the Equinox Pop-Up Workout Series is the perfect way to get fit on the fly (non-Equinox members are welcome). Reserve a free spot in advance online for Tuesday workouts here and Saturday workouts here.
Outdoor Movie Night Series
o   Movie lovers rejoice! Every third Thursday evening is Movie Night at Lincoln Common. Guests of all ages can enjoy complimentary screenings of popular films as well as on-site activations from Bubbles Academy, Black Dog Gelato and more. To RSVP, please contactevents@lincolncommon.com.
§  The movie schedule includes:
·         June 20: Frozen: In a special family-friendly evening, Bubbles Academy will host a 30-minute interactive concert at 6 p.m. with Frozen beginning at 6:45 p.m. Black Dog Gelato will be on the plaza until 8 p.m. for everyone to purchase sweet treats. The first 25 movie-goers will enjoy complimentary gelato!
·         July 18: Sixteen Candles: In tribute to cult classic movies filmed in Chicago, Lincoln Common will show Sixteen Candlesbeginning at 8 p.m. for an evening of nostalgic fun!
·         August 15: Top Gun: Leading up to the city's famous Air & Water Show, guests are invited to view Top Gun beginning at 8 p.m.
Kids' Programming
o   On Saturday, June 29 from 9 to 11 a.m., Lincoln Common will host a free, family-friendly Open House to kick off a summer full of children's programming on the plaza. The open house will feature previews of ongoing events that will be available all summer long, including a concert with Bubbles Academy, a performance from Mr. Dave Music, a yoga activity with Buddha Belly Kids Yoga and more.
o   Starting in July, Mr. Dave Music, a local organization that encourages kids to embrace creativity and celebrate diversity in the power of music, invites young children to music classes every Thursday at 10 a.m. from July 11 through August 29. To register for classes with Mr. Dave Music at Lincoln Common, visit here.
o   Beginning July 12, Lakeshore Sport & Fitness will host kids' fitness sessions every Friday afternoon from 3-4:30 p.m. Children are invited to enjoy a complimentary bounce house, carnival games, a variety of sports and giant Connect Four. Parents can RSVP in advance toevents@lincolncommon.com.
o   On Sunday, July 21 and Sunday, August 18 at 10:30 a.m., parents and their children can participate in Family Yoga. Hosted with Buddha Belly Kids Yoga, Studio Three and GRAZE, reservations for the class must be made in advance online.
For more information about Lincoln Common, visit www.lincolncommon.com or call (773) 938-3001.
About Lincoln Common
Lincoln Common, developed by Hines and McCaffery and designed by world-renowned architect Skidmore, Owings and Merrill and Antunovich Associates to LEED Silver certification standards, is home to world-class residential, retail, dining and fitness experiences, featuring 100,000 square feet of retail space, 538 upscale luxury apartment units, 32 luxury condominiums currently under construction), a five-story boutique office building, 850-stall parking garage, 156-room senior living facility and more than an acre of open space for residents, Chicagoans and visitors, alike, to enjoy. Offering year-round events on the central plaza, this conveniently located live-work-play destination and vibrant new crossroads of Chicago's Lincoln Park neighborhood will be a gathering center for community members of all ages. For more information, visit www.lincolncommon.com. Follow Lincoln Common on Facebook, Twitter and Instagram for updates.