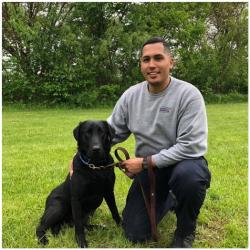 He is a 1 1/2 year old Black Labrador that is kind, friendly, and ready to work.  After the completion of their training, Vader will be able to be used to detect narcotics during patrol duties but will also be a great  resource for our community policing efforts.  Vader will be able to provide comfort to individuals who are victims of crime, victims of abuse, or who have disabilities or special needs.  
When their training is completed, Officer Reillo and Vader will be making one of their first public appearances at our next Munster Crime Watch Meeting on Thursday, July 25th at 7pm at the Munster Town Hall.  
They will also be interacting with the public during our Charity Softball Game to Benefit Best Buddies on Sunday, August 4th at 2pm at Community Park and during Munster's 24th Annual National Night Out Against Crime Celebration on Tuesday, August 6th from 5pm to 9pm at the Munster Community Pool.  
The Munster Police Department would like to thank the many residents, businesses, and service organizations who helped to make this valuable resource for our community a reality.