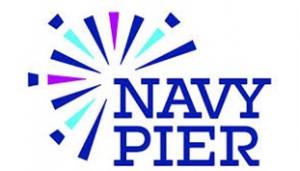 Navy Pier has teamed up with the Jazz Institute of Chicago once again to host Water Colors, a free, live jazz music series. On Fridays from July 12 to August 23, guests will enjoy 90-minute music sets at the Lake Stage in Polk Bros Park, offering amazing skyline views and lively performances ranging from emerging new talent to established and seasoned artists. The series celebrates 100 years of jazz in Chicago, as jazz pioneer Joe "King" Oliver arrived from New Orleans in 1919. Programs will pay tribute to the eras and movements of the city's jazz evolution. 
This year's lineup features Chicago bebop legends, works inspired by Quincy Jones, The Art Ensemble of Chicago, music from Dinah Washington, Benny Goodman and Lionel Hampton, and a festive 1920s-inspired jazz lawn party to round out the series.
In addition to the regular Friday schedule, the Chicago Latin Jazz Festival returns for the third year on Sunday, July 14 to celebrate Latin jazz music with afternoon and early evening performances. The festival includes a tribute to Jerry González by Victor Garcia and the Chicago Latin Jazz Collaborative. Jane Bunnett and Maqueque, a sextet of all-star Cuban female musicians, highlight this year's festival. 
Below is the full schedule for Water Colors:
Friday, July 12
NextGenJazz Emerging Artists Project 
A part of Fresh Fest! Presented by Allstate
6:30 – 8:30 p.m. 
Sunday, July 14
3 – 6 p.m. 
Friday,  July 26
6:30 – 8:30 p.m.
Friday, August 2
Back on the Block: Greg Spero inspired by the works of Quincy Jones
6:30 – 8:30 p.m.
Friday, August 9 
Ancient to the Future: Celebrating 50 Years of The Art Ensemble of Chicago
6:30 – 8:30 p.m.
Friday, August 16 
6:30 – 8:30 p.m.
Friday, August 23 
King Oliver's Lawn Party
'20s Themed Celebration
6:30 – 8:30 p.m. 
Please note that all programs are subject to change. While attending Water Colors, guests are encouraged to take advantage of the many other Pier-wide experiences in dining, retail, boats and other activities and attractions.
Water Colors is part of the Pier's ongoing commitment to offer guests free, one-of-a kind arts and cultural programming, designed to inspire, educate and connect communities and guests across the city and globe. For more information, visit www.navypier.org.
About the Jazz Institute of Chicago
Founded in 1969, the Jazz Institute of Chicago promotes and nurtures jazz in Chicago. We do this by providing jazz education, developing and supporting musicians, building audiences and fostering a thriving jazz scene. For more information, please visit  https://jazzinchicago.org/.
About Navy Pier
Located on Lake Michigan, Navy Pier is one of the top-attended nonprofit destinations in the Midwest, stretching more than six city blocks and welcoming nearly 9 million guests annually. Originally opened in 1916 as a shipping and recreation facility, this Chicago landmark showcases more than 50 acres of parks, restaurants, attractions, retail shops, sightseeing and dining cruise boats, exposition facilities and more. The Pier recently celebrated its 100th anniversary with the unveiling of the iconic Centennial Wheel, Polk Bros Park, Fifth Third Bank Family Pavilion and Peoples Energy Welcome Pavilion. In 2019, Navy Pier continues to usher in its second century with ongoing pier-wide redevelopment efforts – including a 220-room Hilton hotel with rooftop bar, a marina and more – in addition to free, year-round arts and cultural programming designed to inspire, educate and connect communities across the city and globe. Click here to donate to Navy Pier, a 501(c)(3) organization, in support of free public programs. For more information, visit www.navypier.org.
Navy Pier Mission Statement
Navy Pier is the People's Pier, Chicago's lakefront treasure, welcoming all and offering dynamic and eclectic experiences through partnerships and programs that inspire discovery and wonder.