Many people have a fear of snakes and snakebites. Most snakebites are a result of someone trying to move a snake by accidentally stepping on one. Bites from venomous snakes are very rare in Indiana.  If you leave a snake alone, it will leave you alone. When a snake bites a person, it does so in self-defense.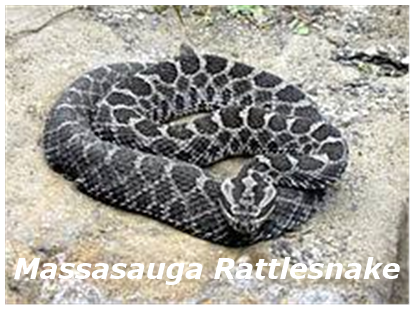 Indiana has two species of rattlesnake: the eastern massasauga (Sistrurus catenatus), which occurs at sites scattered in the northern part of the state, and the timber rattlesnake (Crotalus horridus), which inhabits the forested hills of southern Indiana. Between the two species, timber rattlesnakes are larger and are more likely to be encountered. Outdoor enthusiasts may encounter these snakes while enjoying the rugged terrain in Brown, Morgan and Monroe counties.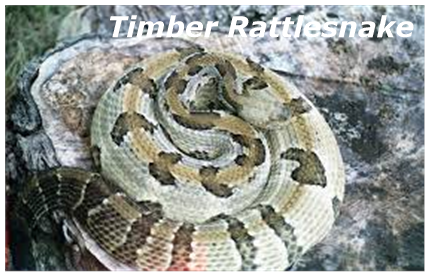 Timber rattlesnake activity spikes during the summer, when male rattlesnakes are searching for a mate. Normally calm and quiet, these snakes do not always rattle when approached. Watch your step while hiking along trails or stepping over fallen logs in Indiana's hill country. If you need to step over a log, first peek over to make sure there are no snakes sitting on the other aside, as they tend to hunt in such spaces.
The odds of encountering a rattlesnake are low in Indiana, but they do reside here, and you should be mindful of their presence. DNR herpetologists are continually recording observations of endangered species like timber rattlesnakes, so if you see one and snap a photo, you can report your sighting to HerpSurveys@dnr.IN.gov.
Monitoring of rattlesnake populations is paid for by the Nongame Wildlife Fund. To help Indiana's rare wildlife, consider donating: on.in.gov/nongamewildlifefund.
Find out more at https://www.in.gov/dnr/fishwild/9385.htm