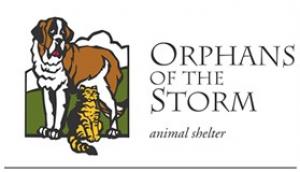 While dining, the guests were enlightened by a speech from Emmy winning CBS meteorologist Ed Curran, who is a longtime supporter of Orphans of the Storm and has adopted three dogs from the shelter. This year's benefit theme was "Wags and Whiskers" to highlight the shelter's miraculous efforts to transform feral animals brought to the shelter into lovable family members. Guests enjoyed a video that highlighted all of the great initiatives the shelter has pursued over the last year to continue to transform animals brought to their doorsteps.
A one-week Florida Getaway to Sanibel Island in a beautiful three-bedroom condo sold for $1,000, among many other luxurious items that were auctioned off. Beautiful jewelry, delicious dining packages, photography, exclusive weekend getaways and coveted spa packages were included as auction items that were sold to raise money for the shelter.
Over the course of our history, Orphans of the Storm has made a difference in the lives of more than 122,000 animals, and the families who adopt them. 1,933 dogs and cats were adopted out in the year of 2018 alone!  The annual benefit dinners provide needed funds to help the shelter continue to grow and serve our community.
About Orphans of the Storm
Orphans of the Storm®, a longstanding animal shelter in Chicago's northern suburbs, takes responsibility and helps to find a home for every cat and dog that reaches its doors. Originally a country refuge, conveniently located west of the Tri-State Toll Way just north of Deerfield Road, Orphans of the Storm has provided exceptional shelter, nutrition and medical care for orphaned, abandoned, abused or neglected cats and dogs since 1928.  Over the course of the shelter's 91-year history, more than 122,000 pets have found new homes as loving and beloved additions to families. 
At any given time, visitors to Orphans of the Storm's beautiful woodland facility in Riverwoods can choose from up to 300 healthy, affectionate and faithful animals who would be their companion for life.  At Orphans of the Storm, animals enjoy 8 acres of land for daily exercise under the caring attention of our staff and a dedicated army of volunteers. We always strive to make the lives of our animals and our community better, one happy ending at a time. Come to Orphans of the Storm, where you will not just adopt a pet, but find a new best friend for life. 
Orphans of the Storm is located at 2200 Riverwoods Road in Riverwoods.  Animals may be adopted at any time; no appointment is necessary. Orphans of the Storm is a not-for-profit, non-government subsidized, section 501(c)(3) organization.  For more information, visit www.orphansofthestorm.org or call 847-945-0235.