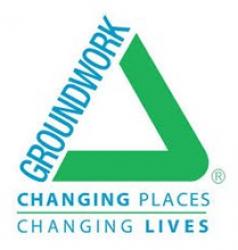 As part of the Indiana Natural Resources Foundation's Give Adventure grant and a grant through Reconnecting to Our Waterways, the school received assistance from the DNR, Groundwork Indy, U.S. Fish & Wildlife Service and Indy Parks. They will plant three native habitat installations. The first installation, a pollinator garden in the front of the school, was completed with help from Wendell Phillips' students.
Native plant and pollinator habitat will be installed on the grounds of Wendell Phillips School 63 in Indianapolis, thanks to a recent $10,000 "Give Adventure" grant to the DNR Division of Fish & Wildlife (DFW) from the Indiana Natural Resources Foundation (INRF).
Wendell Phillips, an Indianapolis Public School for pre-school through 8th grade, is at 1163 Belmont Avenue, in a traditionally underserved area.
Groundwork Indy's GroundCorp program
Youth and young adults participating in Groundwork Indy's GroundCorp program will assist with the grant's habitat plantings, gaining job skills and experience in natural resources, habitat development, and construction. The goal is for the crew's training to help prepare them for potential future careers with DNR and in other natural-resources related fields.  The project will also involve collaboration with U.S. Fish and Wildlife Service and Indy Parks.
"We want to bring conservation to where the people are," said DFW director Mark Reiter. "This is an excellent opportunity to engage an urban community and meet that goal."
Upon completion of the native plantings, a community festival is planned. The celebratory event will allow students to showcase the project and the lasting benefits it will provide to the community and its wildlife. Hands-on activities such as bird-watching and nature scavenger hunts are planned. 
"We're excited to be partnering with DNR's Division of Fish & Wildlife on this new grant," said Jody Kress, INRF executive director. "This outdoor learning environment is going to be a tremendous asset to the school and a great benefit to the students and the local community.
More about Give Adventure grants is at https://www.indiananrf.org/project/give-adventure-grant/.