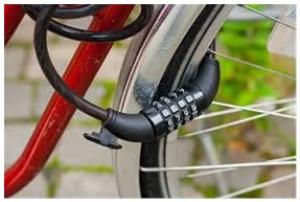  Make sure to use a strong chain to lock up your bicycle, even if you are only going to be inside for a few minutes.  Try to choose a lock that cannot be easily cut by tools.
 Keep bicycles and other similar items locked up inside of your garage when they are not in use.  Never leave them out in your yard where they can be easily stolen.
 Bicycles can be registered at the Munster Police Department.  All you need to do is provide your name, your bicycle's make, model, color, and serial number and it will be entered into a computer database.  If your bicycle is ever stolen or lost, your serial number will be available for entering into a state and national database as stolen (for easier identification or recovery purposes).
If you would like to register your bicycle, please contact Officer James Ghrist at 219-836-6639 or jghrist@munster.org.