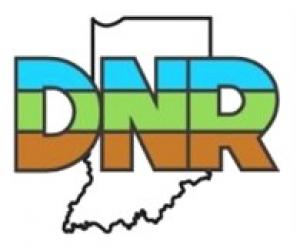 Naturally, decaying leaves, grass clippings, and dead wood are great resources for wildlife in winter. As a bonus, broken down plant matter releases valuable nutrients back into the soil.
Leave fallen leaves alone - Birds such as robins and thrushes seek out insects overwintering in leaves for winter food. Leaves can also serve as insulation and cover for wildlife such as eastern box turtles and red bats, both of which are species of special concern in Indiana.
Don't cut back tall wildflower or grass stems - Quail and pheasants, among other wildlife species, can use wildflower or grass stems from the previous growing season as nesting material. These stems also house overwintering pollinators.
Build brush piles or leave dead trees - Decaying woody vegetation and brush piles can be a great source of winter cover. Standing dead trees, called snags, provide nesting spaces for many birds and mammals. Downed logs can retain heat and moisture in winter months, providing habitat for salamanders and frogs. Brush piles can protect species, such as rabbits, snakes, and some birds from harsh winter conditions.
For more information about creating brush piles or other habitat in your back yard, contact your district biologist at wildlife.IN.gov/2716.htm.