Raised, an Urban Rooftop Bar, located at 1 W. Wacker Drive, with one of the most spectacular views of the Chicago river and the city's skyline, is celebrating the start of summer with a brand new menu curated by Executive Chef Russell Shearer and Restaurant Chef Tim Powles. To match the innovative food offerings, the mixology team, led by Lauren Parton, has batched must try seasonal inspired cocktails, including cocktail popsicles or "poptails" this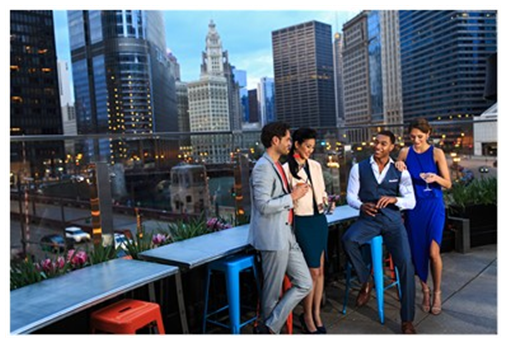 summer. The Raised summer menu is full of delicious options that offer guests a chance to relax and enjoy every sip and bite.
"Summer in Chicago packs a punch and we wanted to reflect that in this menu," said Executive Chef Russell Shearer. "Each creation was curated to feature powerful flavors with inventive combinations to maximize the tasting experience for guests to enjoy while experiencing one of the best views in the city."
Raised's food and beverage lineup showcases an assortment of crave-worthy snacks, solos, shares, sweets, and sips. To start, guests can order an assortment of delicious snacks such as the Shishito Peppers with lemon, miso, sesame seeds, and bonito flakes; or the Roasted Poblano Avocado Salsa with charred shallots, tortilla chips, watermelon radish, and kohlrabi. Parties looking to share plates may choose from a number of decadent offerings including the Beef Tenderloin Sliders with pancetta, herb aioli, mushrooms; and Curried Shrimp with red curry, coconut yogurt, coriander, and scallions. For
a heartier, solo meal, guests will enjoy The Raised Burger showcasing grilled beef with smoked bourbon glazed pork belly, pickled slaw, butterkäse, and seeded brioche; or the Steak Frites featuring a perfectly cooked hanger streak with frites, sautéed spinach, tomato, herb butter, and fried shallots.
For the sweet side, Raised is offering a Pistachio Cake with rum pineapple and white chocolate pistachio crème; a Strawberry Semifreddo with almond sable, basil fluid gel, and micro basil; and a Mango Chocolate Tarte with mango, chocolate mousse, and micro mint. For a refreshing sweet twist, Raised is introducing cocktail popsicles or "poptails" this summer. Enjoy a Tequila Coconut Negroni with Avion, Carpano Antica, Rinomato, Mahina Clement Coco, orange juice, and honey;  a Mimosa with Terre Gaie Prosecco and orange juice; a Cosmopolitan with Absolut Elyx, Triple Sec, cranberry, lime, and honey, as well as the Mint Elixir with green chartreuse, club soda, honey, and mint.
The beverage menu showcases the high talents of the Raised mixology team with cleverly curated cocktails that pair perfectly with the new bites. Guests will love the Cermak Daddy with bonal, lillet blanc, and Finn's Sesame Gin;  the High Tides with G4 Blanco Tequilla, Balsam Rose Vermouth, kiwi puree, lime, and orgeat;  the Dr. No featuring Hendrick's Orbium, Mesh & Bone Shochu, Lillet Blanc, winter melon bitters and sea grapes; the Watered Flowers with cucumber & orchid infused CH vodka, rinomato, strawberry, lemon, egg white, and rose water; as well as the Violet Femmes with Bounty White Rum, violet syurp, and lime juice.
The bar also offers a range of delicious cocktails in both single and large formats, including the License to Dill with Deip9 Genever, lime, simple, ginger beer, cucumber, and dill; the Dream On with butterfly pea flower infused Tito's, poli chamomile, ginger syrup, and topo chico; the Purple Is To Lavender with Hendrick's, strawberry, lemon, and lavender bitters; the Ramblin Rose with Hangar One Rose, Manzanilla Sherry, Strawberry Cordial, and Sparkling Rose, and the signature Raised Sangria on Tap with Lillet rouge, Copper & King's brandy, Giffard Passionfruit, buckspice, and ginger bitters.
Raised is open Monday through Thursday from 4pm to 12am, Friday and Saturday from 2pm to 12am, and is closed on Sundays. For more information visit www.raisedbarchicago.com or call (312) 795-3444.
About Raised, An Urban Rooftop Bar
Following much anticipation, Raised Bar opened to critical acclaim in May 2016. Under the direction of Executive Chef Russell Shearer and Restaurant Chef Tim Powles, the regular menu at Raised features American bar food with a twist, highlighting sharable plates – ideal for mixing and mingling with friends.
Along with the beautiful outdoor patio, the warm and inviting interior makes Raised the perfect place to enjoy stunning city views all year round. Chef Powles focuses on all things local, sourcing his menu ingredients within 200 miles of Raised. The beverage program at Raised is curated by Lauren Parton and features an array of wines on tap, an extensive offering of local craft beers on draft and by the bottle, and specialty cocktails served by the glass or in a shareable decanter. The creative libations with seasonal, fresh ingredients encourage guests to sample and share.
Raised was designed by The Gettys Group, fusing an industrial aesthetic with eclectic style and raw finishes. A glass wall lends to a stunning view of the skyline and Chicago River, while the outdoor area features fresh flowers, fire pits, cabanas, couches and an outdoor bar with a decidedly urban feel.