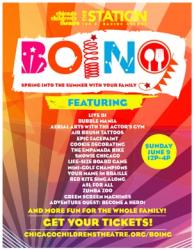 Jump right in for a day of fun and wildly unique experiences outside in CCT's spacious on-site parking lot, and inside on both floors of Chicago Children's Theatre's new home, the former 12th District Chicago Police Station.
Tickets, $10, are on sale now at www.chicagochildrenstheatre.org/boing or by calling Chicago Children's Theatre Guest Services, (312) 374-8835.
At BOING!, children of all ages can get in on the act with Aerial Arts with The Actor's Gym, Air Brush Tattoos, Bubble Mania, Cookie Decorating, The Empanada Bike, Epic Facepaint, Green Screen Movie Making, Life-Size Board Game, Mini-Golf Champions, Snowie Chicago, Storytelling with Second Story, a two-story Adventure Quest and Zumba Zoo. A live DJ will keep BOING! bouncing all afternoon. Summertime food and refreshments, including cool beverages for children - and adults (21 and over) – will also be available.
"BOING! has come to fill a distinct space as a West Loop summer festival and community unification event specifically for families," said Jacqueline Russell, Co-Founder and Artistic Director, Chicago Children's Theatre. "CCT's move to The Station, our first permanent home, was a huge milestone in the company's history. We look forward to opening our home to our neighbors and all Chicago families again to share how BOING! has grown and evolved with the building."
Chicago Children's Theatre's third annual BOING! Family Fest is sponsored by Goldman Sachs, Porte Brown, Armando Chacon and United Airlines.
About Chicago Children's Theatre
Proceeds from BOING! will support Chicago Children's Theatre, Chicago's largest professional theater company devoted exclusively to children and young families.
Led by Founding Artistic Director, Jacqueline Russell, Chicago Children's Theatre was founded in 2005 with a big idea: Chicago is the greatest theater city in the world, and it deserves a great children's theater. Nearly 15 years later Chicago Children's Theatre has established a national reputation for the production of first-rate children's theater, with professional writing, performing, and directorial talent and high-quality design and production expertise.
Chicago Children's Theatre has produced 20 world premieres in the last 12 years including The Selfish Giant, The Hundred Dresses, Jackie and Me, The Houdini Box, Mr. Chickee's Funny Money, Leo Lionni's Frederick, Wonderland, Alice's Rock & Roll Adventure, Jabari Dreams of Freedom, The Year I Didn't Go To School: A Homemade Circus, Manual Cinema's Magic City, My Wonderful Birthday Suit!, Last Stop on Market Street, X Marks the Spot, The World Inside Me (with New York's Spellbound Theatre) and The Watsons Go To Birmingham - 1963. These productions enjoyed successful inaugural runs in Chicago, many followed by productions at theaters across the U.S.
Chicago Children's Theatre has garnered six NEA Art Works grants, supporting the creation of art that meets the highest standards of excellence. In 2017, CCT became the first theater for young audiences in the U.S. to win a National Theatre Award from the American Theatre Wing, creators of the Tony Awards. Most recently, Chicago Children's Theatre received the prestigious TYA USA 2019 National Artistic Innovation Award.
In January 2017, the company celebrated the opening of its new, permanent home, Chicago Children's Theatre, The Station, located at 100 S. Racine Avenue in Chicago's West Loop community. The building, formerly the Chicago Police Station for the 12th District, was repurposed into a beautiful, LEED Gold-certified, mixed-use performing arts, education and community engagement facility that now welcomes all Chicago families. CCT also continues to grow its education programs, offering classes, workshops, winter and spring break camps, and summer camps for ages 0 to 13. CCT offers free tickets to more than 5,000 low-income students each season in partnership with Chicago Public Schools.
In addition to leading Chicago Children's Theatre's new play development, main stage, and education programs, Jacqueline Russell is the creator of the Red Kite Project, a multi-sensory interactive theatre program tailored specifically to children with special needs. Recently, Russell created and directed an innovative production, X Marks the Spot, a multi-sensory experience inspired by her work with children with visual impairments. In 2010, she was appointed by the U.S. State Department to serve as Cultural Envoy to Canada, was awarded the 2013 "Hero of the Year Award" from the Chicago chapter of Autism Speaks, and was recently honored as one of 20 women who have shaped arts and culture in Chicago on the Kerry James Marshall mural at the Chicago Culture Center.
Chicago Children's Theatre is led by Co-Founders, Artistic Director Jacqueline Russell and Board Chair Todd Leland, with Board President Eric Neveux. For more, visit www.chicagochildrenstheatre.org.
New this year, CCT will introduce ACCESS activities like ASL for All workshops with a professional American Sign Language interpreter, Write Your Name in Braille with a visual impairment educator, and a Red Kite Sensory-Friendly Sing Along with teaching artists from CCT's Red Kite Project. All activities are led by CCT teaching professionals and education partners who represent diverse backgrounds and artistic disciplines.
Also new is a raffle for two United Airlines travel certificates valued at $2,100 each, valid for round trip travel in the continental U.S., Canada, Alaska, the Caribbean, Mexico and Central America on United or United Express.