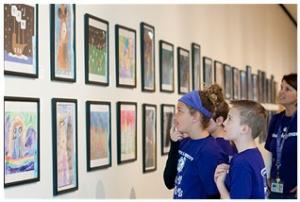 Later this month we'll have the fall and winter Guide to What's Next available at the museum. This handy guide is jam-packed with programs, learning opportunities and celebrations happening now through Halloween and the holidays. Get a head start on planning for the rest of the year by checking out the online version of the guide.
Guide To What's Next 
Parents of school-aged children may be especially excited to learn that our school break camps (fall and winter break) are again offered by the day, and registration is open.
Early childhood programs offer more ways for little ones to use their senses and explore STEAM topics. And now, Toddler Time brings story time and sensory play for our littlest learners beginning at 18 months.
Adults will get their geek on with a new series of adult programming, Quirky Queries, which investigates odd topics such as ghost hunting and Ice Age brutes.
Although the holidays seem a way's off, reservations for the L.S. Ayres Tea Room™ are now open. Come with friends and family, or purchase a gift certificate for someone else.
Our 11 state historic sites offer a unique new lineup of adventures as well! Members receive special discounts for all state historic site events which can now be purchased online in advance.
Our newest Upcoming Experience: A·MAZE·D
Kids and adults alike: Prepare to be challenged with a puzzling exhibit that gets you moving! Jump from dot-to-dot in Hop Dots and maneuver your way through the twists and turns of a giant walk-through cardboard maze. Discover the history of mazes and labyrinths and see original maze art. You may need to sharpen your logic and problem-solving skills to become a true maze-master! A·MAZE·D >>  https://www.indianamuseum.org/a-maze-d?utm_campaign=monthly-lineup&utm_medium=email&utm_source=govdelivery
How well do you recall your early Indiana history? Vincennes is Indiana's oldest city. It was founded in 1732 when what is now the Midwest belonged to France. France lost the area to Great Britain, which in turn lost it to the Americans in the Revolutionary War. Congress created the Indiana Territory in 1800, with Vincennes as its capital. On Aug. 24, go back in time to meet skilled re-enactors, who will tell you all about the daily life of colonial French Vincennes. Colonial French Day >> https://www.indianamuseum.org/calendar/event/1380122/date/2019-08-24?utm_campaign=monthly-lineup&utm_medium=email&utm_source=govdelivery
When you visit the Indiana State Museum, there are many staff members who you may not meet, but whose work you will interact with throughout your visit. One of these behind-the-scenes staff positions is the registrar. (No, this isn't the cash box at the ticket counter.) Learn about how the Indiana State Museum Registrar Jake Sheff helps care for all of the items in our collection through a short Q&A. Read more >> https://www.indianamuseum.org/an-interview-with-a-registrar?utm_campaign=monthly-lineup&utm_medium=email&utm_source=govdelivery