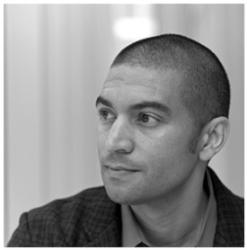 Matejka will receive a $100,000 fellowship award to grow "Poetry for Indy" workshops in Indiana cities with underserved, culturally and economically diverse communities. He also plans to launch a digital archive serving both as a historical documentation of poetry in Indiana and as a resource for teachers.
"Adrian Matejka has been an outstanding State Poet Laureate for Indiana during his term, and the Indiana Arts Commission is delighted to see this well-deserved recognition of his visionary, poetry outreach programs," said IAC Executive Director Lewis C. Ricci.
Matejka began his two-year term as Indiana Poet Laureate in January 2018, and his term will conclude at the end of this year. The Arts Commission will empanel a State Poet Laureate selection committee later this summer to review nominations for the next State Poet Laureate.
Matejka was born in Nuremburg, Germany and grew up in California and Indiana. He is a graduate of Pike High School in Indianapolis, Indiana University Bloomington, and the MFA program at Southern Illinois University in Carbondale. He is currently an associate professor of English at IU Bloomington.
About the Indiana State Poet Laureate program: Increasing public awareness of poetry and the power of the written and spoken word was the inspiration behind the program's enabling legislation signed into law in 2005. The Poet Laureate program encourages the development of educational programming coordinated between the Indiana Arts Commission, the Indiana Department of Education, and the Indiana Poet Laureate.
To learn more about the Poet Laureate program, visit www.in.gov/arts/3013.htm.
To learn more about Adrian Matejka, visit http://adrianmatejka.com/about.
The Indiana Arts Commission is dedicated to the vision of the arts everywhere, every day, for everyone in Indiana.