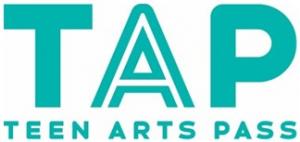 TAP is a program that allows young people ages thirteen to nineteen to experience live arts performances all around Chicago for only $5. In addition, Steppenwolf has included its teen program The Scene for $5 for all teens. Curated by Steppenwolf's own Young Adult Council, The Scene is an exclusive opportunity for teens to score a cheap ticket to a Steppenwolf production, meet the artists involved with the play, and connect with like-minded teens. For more information visit www.steppenwolf.org/education/steppenwolf-for-young-adults/for-teens/the-scene.
TAP registration is free for any teen; they can access the signup form at teenartspass.org and register for the program in a matter of minutes. Upon registering they receive a digital pass and later a mailed physical pass; they will also be able to access program info on the TAP app, set to launch in October. TAP is a day-of-show program, so teens are encouraged to call the box office of the show they wish to see ahead of time to ensure tickets are still available. If tickets remain, teens should arrive at the venue at least 30 minutes ahead of curtain, present their proof of TAP membership at the box office, and they will be able to purchase a $5 cash ticket to the show (including tickets valued at upwards of $200) – giving them access to many of Chicago's premier performance organizations in music, theater, dance, and more.
As TAP Teen Council member Jamani explains, "[Teens in Chicago] witness and go through so much in our communities and homes that it is hard to remember what being special feels like. This [program] will make a lot of teens feel special. Who do you know that's 15 years old and going to see a show that's [normally] $85 for only $5? This program will hopefully bring more art programs to the city and teach the city how to value performing arts. Also hopefully teach Chicago and other places around the world that art can change and will change society."
"The Teen Arts Pass is a formal invitation for all young people to engage in the civic and artistic discourse of our city," said Urban Gateways President & CEO Eric Delli Bovi. "This far-reaching initiative is designed to be for teens and by teens, where youth input and ideas inform the direction and growth of the Teen Arts Pass, and ideally influence the future vitality of Chicago's arts and culture sector. We are thrilled to be adding Steppenwolf Theatre Company to our list of arts partners who are opening their doors and welcoming in new generations of artists, arts patrons, and arts appreciators."
Steppenwolf Director of Education Megan Shuchman shares, "Steppenwolf is proud to be part of this incredible citywide initiative to ensure ALL access for teens to the incredible art this city has to offer. For us, that means ensuring TAP tickets are not only available for our Steppenwolf for Young Adults productions— created specifically for a teen audience—but for ALL Steppenwolf plays, no matter which stage they are on. TAP helps us fulfill our mission in Steppenwolf Education to celebrate the learner, maker and appreciator in each of us. Teens, we'll see you at Steppenwolf. Just bring yourself!"
Steppenwolf for Young Adults' upcoming production of Steppenwolf ensemble member Tarell Alvin McCraney's The Brothers Size is a wonderful opportunity for teens to take advantage of TAP and Steppenwolf's teen programing. Returning to Steppenwolf for the first time since its world premiere, the play tells the story of Ogun Size, who is hardworking and heartbroken. Oshoosi Size is recently returned home from prison and trying to be anywhere but. In this fierce and honest look at the complex bonds of brotherhood, McCraney weaves together poetry, music and Yoruba mythology to magnify the tug-of-war between freedom and the need to belong somewhere, to something, to someone. The Scene event for The Brothers Size takes place Saturday, October 12, 2019. The play performance at 3:00pm with The Scene event to follow.
Teens can currently use TAP to get $5 tickets to Steppenwolf's mainstage production of The Great Leap by Lauren Yee, directed by Jesca Prudencio, as well as any show in Steppenwolf's LookOut Series. 
Through TAP, organizations like Urban Gateways and Steppenwolf welcome teens into the arts community and expose them to art forms that open their minds and expand their creativity. We hope to see more and more teens utilizing this exciting initiative and experiencing our performances for many years to come.
Urban Gateways engages young people in arts experiences to inspire creativity and impact social change. TAP is a program of Urban Gateways; with the Teen Arts Pass, teens can experience live arts performances all around Chicago for only $5. Sign up or learn more at teenartspass.org.
For more information contact Eric Delli Bovi, President & CEO at Urban Gateways: 312.445.2754 or edellibovi@urbangateways.org.
Steppenwolf Education's unique approach combines play production with educational components to enhance arts education for young audiences, as well as their teachers and families, as well as a professional leadership program for early-career professionals. Every season Steppenwolf for Young Adults (SYA) creates two full-scale professional productions specifically for teen audiences. Working closely with the Chicago Public and metropolitan area schools and other community partners, Steppenwolf Education annually ensures access to the theater for more than 20,000 participants from Chicago's diverse communities. The initiative also includes post-show discussions with artists; classroom residencies led by Steppenwolf-trained teaching artists in almost 100 classrooms in public high schools; professional development workshops for educators; and the Young Adult Council, an innovative year-round after-school initiative that uniquely engages high school students in all areas of the theater's operations, as well as other teen and community based programs.
Year of Chicago Theatre
Steppenwolf Theatre Company is proud to be part of the 2019 Year of Chicago Theatre, presented by the City of Chicago and the League of Chicago Theatres. To truly fall in love with Chicago, you must go to our theatres. This is where the city bares its fearless soul. Home to a community of creators, risk-takers, and big hearts, Chicago theatre is a hotbed for exciting new work and hundreds of world premieres every year. From Broadway musicals to storefront plays and improv, there's always a seat waiting for you at one of our 200+ theatres. Book your next show today at ChicagoPlays.com.
Steppenwolf Theatre Company is the nation's premier ensemble theater. Formed by a collective of actors in 1976, the ensemble members represent a remarkable cross-section of actors, directors and playwrights. Thrilling and powerful productions from Balm in Gilead and August: Osage County to MS. BLAKK FOR PRESIDENT—and accolades that include the National Medal of Arts and 12 Tony Awards—have made the theater legendary. Steppenwolf produces hundreds of performances and events annually in its three spaces: the 515-seat Downstairs Theatre, the 299-seat Upstairs Theatre and the 80-seat 1700 Theatre. Artistic programming includes a seven-play season; a two-play Steppenwolf for Young Adults season; Visiting Company engagements; and LookOut, a multi-genre performances series. Education initiatives include the nationally recognized work of Steppenwolf for Young Adults, which engages 20,000 participants annually from Chicago's diverse communities; the esteemed School at Steppenwolf; and Professional Leadership Programs for arts administration training. While firmly grounded in the Chicago community, nearly 40 original Steppenwolf productions have enjoyed success both nationally and internationally, including Broadway, Off-Broadway, London, Sydney, Galway and Dublin. Anna D. Shapiro is the Artistic Director and David Schmitz is the Executive Director. Eric Lefkofsky is Chair of Steppenwolf's Board of Trustees. 
Steppenwolf's Mission: Steppenwolf strives to create thrilling, courageous and provocative art in a thoughtful and inclusive environment. We succeed when we disrupt your routine with experiences that spark curiosity, empathy and joy. We invite you to join our ensemble as we navigate, together, our complex world.
For additional information, visit steppenwolf.org, facebook.com/steppenwolftheatre, twitter.com/steppenwolfthtr and instagram.com/steppenwolfthtr.