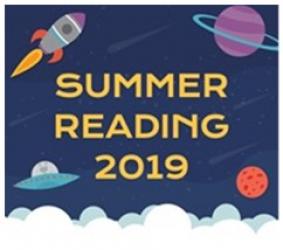 All ages can join in, from babies to senior citizens. Stop by your branch to sign up, track your pages, and earn prizes (like a $200 gift card or a BB-8 droid!)
Summer Reading Kick-Offs!   
Summer Reading sign-ups started June 1 at all locations. Each branch will also kick off (or should we say launch?) Summer Reading with their own unique event!  
Cedar Lake: Professor Steve's Flight and Space Show  
June 5, 1:00 PM 
Dyer-Schererville: Fun Fair
June 5, 2:30 PM 
Griffith-Calumet Twp: SciFi Fest
June 1, 1:00 PM 
Highland: Summer Reading Open House
June 6, 2:00 PM 
Hobart: Launch Party
June 1, 3:00 PM 
Lake Station-New Chicago: Challenger Science Stations Launch Party
June 8, 3:00 PM 
Merrillville: Summer Storytime Kickoff (Ages 2-5) 
June 4, 10:00 AM 
Munster: Summer Reading Open House
June 5, 2:00 PM 
St. John: Star Wars Extravaganza 
June 7, 3:30 PM