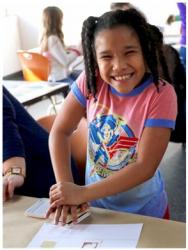 LCA is a non-profit art center located at 101 W. 2nd St. on the lakefront in Michigan City, Indiana. It presents several art exhibitions each year, all of which are made available to the public completely free of charge. Last summer's popular Warhol: Icon & Influence drew record crowds, while the current Nature vs Everything exhibition, on display through June 8, has received rave reviews from visitors of all ages for its engaging and interactive works. 
LCA builds a wide array of arts education programs around its exhibitions. Each exhibition features free curator-led tours, Family Day programming and monthly First Friday cultural events. In a typical year, nearly 1,800 area students visit the center for educational tours and artmaking, while hundreds more receive services through after school programming at 11 Michigan City schools. In addition, LCA is in its 11th year of providing visual arts classes to adults with disabilities at no cost to participants. 
"At LCA, we believe art is for everyone," says Michelle Shirk, Development Director. "Our members enable us to make a vibrant impact on the community by providing kids and adults with access to outstanding art programs and exhibitions, right here in La Porte County. If you agree that transformative cultural experiences should be accessible to all, we'd love to have you support our work by becoming a member during the month of May." 
A variety of membership levels are available for individuals and families. All levels include discounts on LCA classes and Gallery Shop purchases, free admission to the Lubeznik Arts Festival in August and access to a fun-filled Member Appreciation Event in November. To learn more or to become a member, please visit www.lubeznikcenter.org or call (219) 874-4900.
About Lubeznik Center for the Arts
Lubeznik Center for the Arts (LCA) serves as the hub for arts and culture for the entire region. Its mission is to ensure that everyone in our community receives equal access to high quality cultural experiences.
LCA is located at 101 W. 2nd St., at the lakefront in Michigan City, Indiana. Admission is free year-round. Gallery weekday hours are from 10 a.m. to 5 p.m. Weekend hours are from 11 a.m. to 4 p.m. For more information please visit www.lubeznikcenter.org or call 219-874-4900.