Date:
Sat, 10/17/2020 - 7:00pm

to

Sun, 10/18/2020 - 9:30pm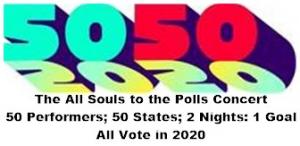 Adding art to the urgency of ensuring a robust voter turnout for what many consider to be 'the most important election of our lifetimes,' more than 50 artists, social justice and grassroots activists from across the country have created two nights of concerts to spur national voter turnout.
On Saturday, October 17 and Sunday, October 18 at 8 p.m. EST, 7 p.m. CST and 5 p.m. PST, a variety of acts by artists including Linda Ronstadt, Los Lobos, Regina Carter, Isaiah Collier and a broad array of musicians from across the country will be performed in virtual concert. Joining the musicians on stream are civil rights and social justice activists including Amy Goodman, Medea Benjamin, Danny Glover and others, whose voices reflect the regional culture and times of their place. In addition, politicians including Beto O'Rourke, U.S. Representatives Jan Schakowsky (D-IL) and Dan Kildee (D-MI) and former senior advisor to President Obama, Valerie Jarrett will express the importance of voting in this election.
"The 2020 election is the most important election in our nation's history since 1864 and people are facing unprecedented obstacles when they head to the polls," said producer Marguerite Horberg. "With the future of our democracy at stake and so many new restrictions on voting, it is essential we inspire more people to get out and vote and make sure voters have the information they need to make their voices heard."
During the broadcasts, representatives from activist organizations will be interacting with the community online and on social media to maximize voter turnout. They will identify local campaigns, make sure people are registered to vote and answer questions regarding how and where to vote. These activists include co-founder of Global Exchange Medea Benjamin, "RAPtivist" Aisha Fukushima and noted author, activist, theologian and documentary filmmaker Reverend Sekou.
The concerts will be broadcast on Twitch, Facebook and YouTube. Donations can be made during the broadcasts with all proceeds going to GOTV efforts, including those led by the Movement Voter Project and Progressive Partnership Initiative. Concerts will last around two and a half hours both days and will be streamed on Twitch at twitch.tv/5050gotv.
This event is free, but Eventbrite registration is requested: www.eventbrite.com
The list of confirmed participants and updates for the evolving list of artists and speakers can be found at 50to50concert.com.    Those wishing to watch the concerts on Facebook or YouTube will find them at facebook.com/allsoulstothepolls and www.youtube.com/hothouseglobal. 
For additional information about the virtual concert, visit the  50/50 Concert website.  
About The Producers
The concert is affiliated with The Progressive Leadership Initiative and produced by   Marguerite Horberg, Bill Martinez, Alicia Zertuche, Raul Cuza and Melissa O'Brien the same team produced the Concert for Cuba in July 2020 – a program that reached more than 15 million viewers around the globe.  Additionally, a broad range of individuals and organizational volunteers are working to build an audience and to assure a robust vote in November. Communications and organizational outreach are the work of Marilyn Katz and the MK Communications team, including Brian Berg, Aishwarya Sukumaran and ReShuana Striggles.
About Marguerite Horberg
Marguerite Horberg is the founder and Executive Director of HotHouse and has 40 years producing award-winning arts and education programs. She also developed and operated two cultural centers in Chicago that attracted more than 70,000 people a year. In March, via HotHouse she initiated a new online streaming initiative to serve the NGO, small business, and cultural industries adversely affected during the COVID-19 health and economic crisis. Since March more than 15 million people have tuned in to HotHouseGlobal.
About Progressive Leadership Initiative
Progressive Leadership Initiative is a civic engagement, affiliated 501c4 nonprofit organization that embraces culture and technology to engage and equip people with the tools, skills and training to be effective volunteers, organizers and civic leaders.