Date:
Sun, 04/05/2020 - 12:01am

to

Sat, 04/11/2020 - 11:59pm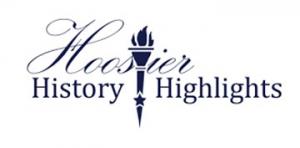 Indiana Quick Quiz - Civil War Generals
1.  Name the Major General from Liberty, Indiana, who is best remembered for his distinctive style of facial hair.  
2.  From Crawfordsville, this Major General wrote one of the best-selling novels of the 19th Century.  Identify this popular author.  
3.  Who was the Brigadier General from Indianapolis who went on to four years in the White House? 
Answers Below 
1865
April 10, 1865  This headline in the Evansville Daily Journal announced the surrender of Confederate General Robert E. Lee a day earlier at Appomattox Courthouse in Virginia.  Hoosiers celebrated the end of the Civil War, which had cost the state over 24,000 lives.  
1900     The Western Union Telegraph Company announced that Indianapolis had become a central hub for the entire nation.  Wires had been installed in the local office which could carry messages to and from Chicago, St. Louis, Louisville, Cincinnati, Columbus, Cleveland, Toledo, and other large cities.  The 50 Indianapolis operators were handling over 200,000 messages each month.  
Did You Know?
     Western Union might be called the nation's first Internet service.  By 1861, the company had established lines from coast to coast.  You could go to a Western Union office and send a message to someone in a distant city.  The system used Morse Code to transmit dots and dashes of electricity over wire cables.  Many young men of the era chose to follow careers in this early "I.T." field.  Among them was 18-year-old Thomas Edison, who came to Indianapolis in 1864 to work for Western Union.  He was paid the handsome salary of $75 a month to work as a night operator at the train station.  He boarded at the Macy House, one block east of the Statehouse on Market Street.  It is said that, while in the city, he produced his first real invention:  a machine that could record a telegraph message on a paper tape and play it back later at a slower speed.  The young Edison was in the city for less than a year before moving on.
1925     The national convention of the American Association of University Women was held at the Claypool Hotel in Indianapolis.  Delegates from across the nation met to discuss topics related to women in higher education.  The four-day seminar ended with a motorbus trip to the campus of Indiana University, where members met with I. U. President William Lowe Bryan and visited the studio of artist T. C. Steele.  
1952     Spokesmen for Indiana Bell Telephone Company announced an increase in the charge for the use of a pay phone.  The new cost would be a dime or two nickels.  The old fee of five-cents had been the rate for nearly 50 years.  
1968      A natural gas leak caused an explosion in downtown Richmond, Indiana, killing 41 people and injuring more than 150. Twenty buildings were condemned as a direct result of the devastation.
1990     Over 45,000 attended the Farm Aid Concert at the Hoosier Dome in Indianapolis. Willie Nelson headlined a program which included Bonnie Raitt, Garth Brooks, Don Henley, and Elton John, who dedicated "Candle in the Wind" to Ryan White. White died the next day at Riley Hospital.
Hoosier Quote of the Week
"Do not look back on happiness or dream of it in the future.  You are only sure of it today; do not let yourself be cheated out of it."                                               - - - Henry Ward Beecher (Pastor, Second Presbyterian Church in Indianapolis, 1839-1847)
Have you completed your Census Questionnaire?  Indiana is Counting on You
ANSWERS:  1.  Ambrose Burnside (The term "sideburns" originated with him.)  2.  Lew Wallace  (Author of Ben Hur and other novels)  3.  Benjamin Harrison ( 23rd President of the United States)
INDIANA STATEHOUSE TOUR OFFICE - Indiana Department of Administration
NOTE:  Due to the Coronavirus threat, tours of the Statehouse have been suspended until further notice.  You may still contact us by phone and e-mail. You are invited to take a "Virtual Tour" of the Statehouse by clicking the link at the bottom of this column. 
Take an "Armchair Tour" of the Indiana Statehouse!
(317) 233-5293 | captours@idoa.in.gov  | http://www.in.gov/idoa/2371.htm
Follow us:   Instagram @instatehousetouroffice; Facebook @Indiana Statehouse Tour Office and Education Center; Twitter @INSthouseEdCntr
Follow this link to subscribe to Hoosier History Highlights and to view archived editions