Date:
Mon, 04/12/2021 - 10:00am

to

Sat, 04/17/2021 - 5:00pm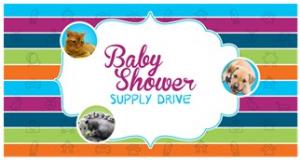 Monday, April 12 through Saturday, April 17
10:00 AM  5:00 PM
Humane Indiana Resale and Consignment Shop, 8149 Kennedy Avenue, Highland, IN, 46322
Help Humane Indiana during our annual Baby Shower Supply Drive by donating items most needed from our special baby shower supply wish list below. The collection is being taken at the Humane Indiana Resale and Consignment Shop in Highland, IN.
While you're there, we hope you'll enjoy treasure-hunting great deals and visiting the Shop Local Gift Center featuring locally-made goods. Stop by and try our selection of local specialty foods and Northwest Indiana artisanal favorites!
If our Shelter and Clinic in Munster, IN, or our Wildlife Rehabilitation and Education Center in Valparaiso, IN, are closer options for you, please feel free to bring your donations to any of these convenient locations during normal business hours.
BABY SHOWER SUPPLY WISH LIST
Vicks quick-read thermometer

Baby wipes (sensitive)

Cotton balls

Kitten formula (Breeder's Edge/KMR)

Gerber Sitter 2nd Baby Food (chicken, turkey, beef, ham)

Feliway diffuser, spray

Cat/kitten toys

Dog/puppy toys

Kongs

Litter pans

Non-clumping cat litter

Canned puppy food

Canned kitten food (Fancy Feast)

Soft dog treats

Cat beds

Baby shampoo

Karo Syrup

Purina Kitten Chow

Slow feeders

Shallow dishes

Washcloths

Snuggle Puppy/Snuggle Kitten

Diaper Bags

Amazon Basics stainless steel scales

SnuggleSafe Warming Discs (Amazon)

Miracle Nipples (Amazon)

Gift Cards (Amazon, Petco, PetSmart, Meijers)