Date:
Mon, 10/26/2020 - 11:00am

to

Tue, 10/27/2020 - 4:00pm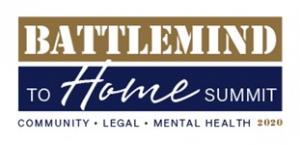 Battlemind brings together a variety of experts each year to inform and educate Indiana professionals on the critical issues facing military-connected families in Indiana's communities. Our goal for this conference is to help reduce reintegration barriers for veterans, service members and military families. We work to educate attendees on the challenges military-connected families face and also the opportunities and strengths they bring to our communities.
Throughout the event, attendees can virtually network within and across communities, learn about shared issues, and develop action plans to apply at home. They will leave Battlemind empowered and motivated to create community change.
October 26: Preconference ($20) 
Participants can choose from a session on the intersection of substance use and suicide or a community forum on veteran homelessness. These two preconference sessions are open to all audiences. A session about VA and military benefits will be offered exclusively for the legal community.
October 27: Battlemind to Home Summit ($45)
For more information and to register, click here.
Three Tracks
MFRI uses a collaborative approach to plan and execute this event. With nationally recognized experts in all fields, Battlemind presents evidence-informed sessions that address many sensitive and cutting-edge topics. Past summit sessions have covered issues such as suicide, moral injury and community mobilization.
This year's featured content will address:
issues regarding legal needs and support;
how to address physical and mental health concerns during the COVID-19 crisis; and
the tools needed to create a sense of community within civilian life for military personnel.
Join the Conversation
Find information about Battlemind on social media by following MFRI on Twitter using #battlemindIN, and "like" MFRI on Facebook.
Partners

Indiana State Bar Association, the Indiana Office of Court Services and the VA Center for Faith and Opportunity Initiative.
Whova Conference App
The 2020 Battlemind to Home Summit will be hosted virtually via the Whova conference app. For more information, view the Whova App User Guide.
Already registered? Download the Whova conference app now.
DATE & LOCATION
Date: 10/26/2020 to 10/27/2020
Time: 12:00 PM to 5:00 PM EDT (11:00 AM to 4:00 PM CDT)
Location:
This is a 100% virtual event.  Registrants will receive access to the Whova conference app (available on mobile devices and desktops) to view the sessions.