Date:
Sat, 09/21/2019 -

7:30pm

to

10:00pm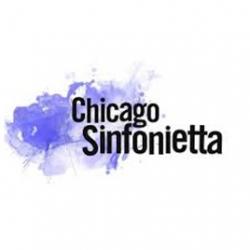 In advance of its 2019-2020 season Dialogue, the nation's most diverse orchestra, Chicago Sinfonietta, will perform a live concert screening of Jordan Peele's smash hit film Get Out, conducted by score composer Michael Abels, at the Auditorium Theatre Saturday, September 21 at 7:30 p.m. Guests are invited to enjoy the Midwest premiere performance of the film's evocative, heart-pounding music. Nominated for four Academy Awards including Best Picture, Get Out is a film that is equal parts gripping thriller and provocative social commentary and the perfect precursor to a season of performances meant 
to spark conversation with timely motifs and ignite audiences to do more than just listen. Tickets for Chicago Sinfonietta subscribers and individual tickets for the public are now on sale online at https://tickets.auditoriumtheatre.org/calendar/2428/19-20-get-out/#/area starting from $29.
"We are excited to perform alongside a screening of this popular film in this co-production with the Auditorium Theatre's American Music Series," said Chicago Sinfonietta Music Director Mei-Ann Chen. "Much like Get Out turned expectations of the horror and thriller movie genre on its head, the Chicago Sinfonietta prides itself in pushing the boundaries in classical music by performing diverse works of music, championing diversity and inclusion and raising issues of race, society and humanity to the artistic community. Audience members are sure to feel the rises and falls of energy and anticipation throughout the film in a way that can only be experienced with live music and vocalists."
"Get Out with the Chicago Sinfonietta is the perfect way to kick off the Auditorium's 2019-20 Season which, as always, offers a wide array of diverse programming from dance to speaker events to music," says C.J. Dillon, Auditorium Theatre Chief Programming Officer. "We look forward to partnering with the Sinfonietta and welcoming this stellar Chicago orchestra and film composer Michael Abels to our landmark stage for this unique presentation of this new American classic."
Abels, who will conduct the Chicago Sinfonietta for the first time ever, boasts a nearly three decade long relationship with the orchestra, which first performed one of his pieces, Global Warming, in the early 90s. Chicago Sinfonietta has premiered several of Abels' works, including the specially commissioned Aquadia, which was premiered in concert by theChicago Sinfonietta, and then recorded for use in a Shedd Aquarium ongoing performance titled Fantasea. When the founding Music Director Maestro Paul Freeman passed, Abels wrote Victory Road as a celebration of Freeman's life and honoring his work championing diversity and pushing the boundaries of classical and orchestral music.
"The Chicago Sinfonietta is the orchestra that knows my music best," said Michael Abels, Get Out score composer. "I have had the honor of enjoying a long relationship with the organization, which has commissioned, performed and recorded my works through the years. Now I'll be conducting them for the first time, and it feels like I'm coming home to family. I'm thrilled to have the opportunity to recreate the music from Get Out live in concert. It's a treat to enjoy the reaction from the audience, and to share that movie-concert experience with them. In addition to the instrumental score, we'll also perform the well-known songs that occur throughout the film, like 'Run Rabbit, Run,' 'Redbone,' and 'I've Had The Time of My Life.'"
Chicago Sinfonietta is grateful to its corporate sponsors Blue Cross Blue Shield of Illinois and BMO Harris Bank. The orchestra also thanks its in-kind sponsors Southwest Airlines and Fairmont Chicago.
For more information, please visit www.chicagosinfonietta.org/1920season or purchase tickets at https://tickets.auditoriumtheatre.org/calendar/2428/19-20-get-out/#/area.  
About the Sinfonietta
Now in its 32nd year, Chicago Sinfonietta has pushed artistic boundaries to provide an alternative way of hearing, seeing and thinking about a symphony orchestra and is dedicated to promoting diversity, inclusion, racial and cultural equity in the arts. Each concert experience blends inventive new works with classical masterworks, each from a diverse array of voices, to entertain, transform and inspire. In 2016, Chicago Sinfonietta was the proud recipient of John D. and Catherine T. MacArthur Foundation's prestigious MacArthur Award for Creative and Effective Institutions (MACEI). This award recognizes exceptional organizations that are key contributors in their fields.
The orchestra was founded by Maestro Paul Freeman to address disconnect between the utter lack of diversity in orchestras and the vibrant, nuanced, communities for which they play. For more than 30 years, Chicago Sinfonietta has made it their mission to represent the city of Chicago, reflecting that vibrancy on stage and in their programming, making classical music accessible for anyone. In everything they do, Chicago Sinfonietta are inspired by founder Paul Freeman (1936-2015). The orchestra's 32 years have been highlighted by six European tours, two Kennedy Center performances, two Millennium Park concerts attended by over 19,000 people and 16 recordings, including Project W, which was released in March 2019.
 About The Auditorium Theatre
The Auditorium Theatre, located at 50 E. Ida B Wells Dr. at Roosevelt University in Chicago, is an Illinois, not-for-profit organization committed to presenting the finest in international, cultural, community, and educational programming to all of Chicago and beyond as The Theatre for the People. The organization also is committed to the continued restoration and preservation of the National Historic Landmark. For more information about programming, volunteer, and donor opportunities or theatre tours, please call 312.341.2310 or visit www.AuditoriumTheatre.org. For a complete listing of events at the Auditorium Theatre, please visit www.tickets.auditoriumtheatre.org/?utm_source=wordfly&utm_medium=email&u.... The Auditorium Theatre 2019-20 Season is made possible in part with support from the John D. and Catherine T. MacArthur Foundation, the Illinois Arts Council Agency, and the Palmer House Hilton.