Date:
Sat, 11/02/2019 -

8:00pm

to

11:00pm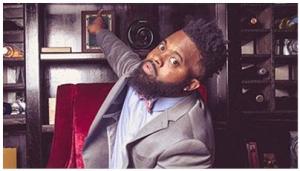 Think you're ready for Eddie B? Buckle up. America's favorite teacher/stand-up comic is about to take audiences on a wild ride. Tickets are on sale now.
Paramount Theatre is located at 23 E. Galena Blvd. in downtown Aurora. For tickets and information, visit www.ParamountAurora.com, call (630) 896-6666, or stop by the Paramount box office, 10 a.m. to 6 p.m., Monday through Saturday. Groups of 10 or more receive discounted tickets.
Get schooled about Eddie B:
While others waited in the wings for a shot at becoming a top standup comic, Eddie B soared to new heights by creating his own opportunity – offering an uncensored, raw and hysterically realistic portrayal of a teacher's hectic life, from the point of view of an actual teacher. His blockbuster "Teachers Only Tour" established him as the "official voice of teachers" across the globe, from America to Africa, Dallas to Dubai, New York to New Delhi (and beyond). Onstage, he says what he lives, plain and simple. Eddie's comedy is hilarious, smart, passionate, and brutally honest, and his comic wisdom is served with powerful energy. And audiences are loving it. Eddie B's worldwide comedy showcase is shattering attendance records with sold-out shows at venues including the Houston Bayou City Event Center and Stafford Civic Center.
The Eddie B phenomenon began with a series of videos entitled "What Teachers Really Say" (written, produced, and starring Eddie B). Through a rigorous comedic set characterized by original material and accented by physical comedy, Eddie B says what teachers everywhere are thinking but couldn't quite say out loud, until now. He is known as the official "voice of teachers" and is currently in talks to parlay the mega success of his tour into a book deal as well as television and big screen versions of his wildly popular viral videos. He is a self-made artist and has headlined sold-out shows at the famed Houston Improv and New York's Broadway Comedy Club. He is also the most irreverent member of the breakthrough group "The 5 Degrees of Comedy. There's comic wisdom behind those deep brown eyes and he serves it up with powerful energy. You'll be hard pressed to find a more well rounded comic. www.eddiebcomedy.com.
About Paramount Theatre
Paramount Theatre (ParamountAurora.com), 23 E. Galena Blvd. in downtown Aurora, is the center for performing arts, entertainment and arts education in the second largest city in Illinois. Paramount opened on September 3, 1931. It was designed by renowned theater architects C.W. and George L. Rapp and is graced with a beautiful Venetian decor with a strong 1930s Art Deco influence. It also was the first air-conditioned building outside of Chicago. From silent films to the first "Talkies," from Vaudeville to Bobby Vinton, from Dionne to Donny and Marie, Paramount Theatre has provided Aurora and the Fox Valley the best of entertainment for generations.
In 1976, the Aurora Civic Center Authority (ACCA) restored Paramount to its original grandeur. Paramount Arts Centre reopened in 1978, offering a variety of touring theatrical, musical, comedy, dance and family programming. In 2006, a 12,000-square-foot, two-story Grand Gallery lobby was added, including a grand staircase, new box office, café and art gallery.
In 2010, ACCA hired Tim Rater as President and CEO of Paramount Theatre. Rater's mission was to boost the theater's programming and audience base by transforming Paramount into one of Chicago's top self-producing, professional Equity musical theaters. Rater hired award-winning Chicago director Jim Corti as Paramount's first-ever artistic director. In 2011, Paramount introduced its inaugural four-play Broadway Series with Corti's critically acclaimed production of My Fair Lady. In just eight blockbuster seasons since, Paramount has leapt to the top of Chicago's musical theater scene, winning unanimous audience and critical acclaim, and an unprecedented number of Joseph Jefferson nominations and awards, including Best Musical-Large three years in a row.
Today, the 1,855-seat Paramount Theatre remains nationally renowned for the quality and caliber of its presentations, historic beauty and superb acoustics. More than 41,000 subscribers from throughout the city and suburbs enjoy Paramount's Broadway-quality productions at highly affordable prices, making Paramount the second largest subscription house in the nation. In addition to its Broadway Series, Paramount continues to present an eclectic array of internationally known comedians, music stars, dance events and family shows, and on most Mondays, screens a classic movie for just $1.
Paramount is one of three live performance venues programmed and managed by the ACCA, which also oversees Paramount's "sister" stage, the intimate 173-seat Copley Theatre located across the street from the Paramount at 8 E. Galena Blvd., as well as RiverEdge Park, downtown Aurora's summer outdoor concert venue at 360 N. Broadway.
Rater and his team also are preparing to open the new Paramount School of the Arts in the John C. Dunham Aurora Arts Center, currently under construction adjacent to Paramount. Paramount's new school will encourage and train young actors, dancers and musicians for a culture-filled life, nurture the arts in Chicago's western suburbs and add to the excitement, cultural and economic activity in downtown Aurora. Courses for children as young as six months will be offered with opportunities for adults and seniors, as well. Registration is currently open for a full roster of classes, private lessons and camps in acting, music and dance to launch in June of 2019.
Paramount Theatre continues to expand its artistic and institutional boundaries under the guidance of Tim Rater, President and CEO, Aurora Civic Center Authority; Jim Corti, Artistic Director, Paramount Theatre; a dedicated Board of Trustees and a devoted staff of live theater and music professionals.
For more, visit www.ParamountAurora.com or call (630) 896-6666.