Date:
Sun, 12/08/2019 - 12:01am

to

Sat, 12/14/2019 - 11:59pm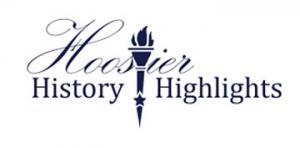 Indiana Quick Quiz
Name the Spencer County town whose post office is always very busy at Christmas time.
What ever-popular Christmas song was recorded by Hoosier Bobby Helms?
"A Christmas Story" is based upon author Jean Shepherd's childhood in what Indiana city?
Answers Below 
1816     President James Madison signed a Congressional resolution admitting Indiana to the Union as the 19th state.  The new state government would be centered in Corydon.  Jonathan Jennings assumed the office of Governor, having won the election in August
1880     The Madison County Courthouse in Anderson was destroyed by fire. Nearly all records were lost. A new building was opened in 1885. That building served into the 1970s, when it was replaced with the more modern structure shown at right.
1917     Thirty Indiana delegates attended the National Women's Suffrage Association Meeting in Washington, D. C.  Women from around the nation met for the three-day event at Poli's Theater.  The Hoosier group was led by Mrs. R. E. Edwards of Peru, president of the Indiana Franchise League.  
1926     An explosion in Coal Mine #2 in Francisco, Indiana, killed 37 men.  The exact cause of the blast was never determined.  It was the second-worst coal mine disaster in state history.  The worst had occurred the year before in Sullivan, when 51 were killed.  
1941     Hoosiers, still stunned by the bombing of Pearl Harbor, sought comic relief at local movie theaters.  One of the most popular films was "Look Who's Laughing," showing at the Indiana Theater in Indianapolis.  The cast was comprised of well-known radio stars Fibber McGee and Molly, Lucille Ball, the Great Gildersleeve, and Edgar Bergen and Charlie McCarthy.  
1958     Rev. Martin Luther King, Jr., spoke to a crowd of 4,000 at Cadle Tabernacle in Indianapolis.  The 29-year-old Baptist preacher told his audience, "If democracy is to live, segregation must die." He was welcomed to the city by Incoming Mayor Charles Boswell, who said Rev. King made a place for himself alongside Crispus Attucks, Nathan Hale, and Daniel Boone.  
The 2020 Census is coming.....   Census data impacts strategic planning decisions about statewide job training, location of new businesses, and public transportation projects.  
HOOSIER QUOTE OF THE WEEK
"Eat breakfast like a king, lunch like a prince, and dinner like a pauper."  - - - Adele Davis (pioneer nutritionist from Lizton, Indiana)
ANSWERS:  1.  Santa Claus, Indiana  2.  "Jingle Bell Rock"  3.  Hammond
Here's an exquisite gift idea!  This beautiful pin captures the magnificent colors of the stained glass dome in the Statehouse Rotunda
Follow us:  Instagram @instatehousetouroffice; Facebook @Indiana Statehouse Tour Office and Education Center; Twitter @INSthouseEdCntr
Follow this link to subscribe to Hoosier History Highlights and to view archived editions
INDIANA STATEHOUSE TOUR OFFICE - Indiana Department of Administratio
Guided tours of the Indiana Statehouse are offered Monday through Saturday.  For more information, check our website listed at the bottom of this page.
(317) 233-5293 | captours@idoa.in.gov  | http://www.in.gov/idoa/2371.htm