Date:
Mon, 10/19/2020 - 8:00am

to

Sat, 10/24/2020 - 5:00pm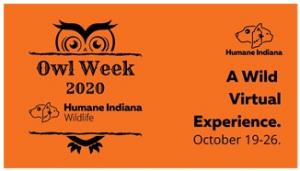 Are you ready for a HOOT of a good time? Humane Indiana thinks everyone is due for a wild, virtual experience.
Humane Indiana's Wildlife Center should be prepping for our 3rd Annual Festival of Owls. However, for the safety of the public, and our team, we have opted to cancel the celebration. Instead, we have planned the next best option Owl Week, October 19-24, a virtual experience which brings the all-ages event to you through your electronic devices.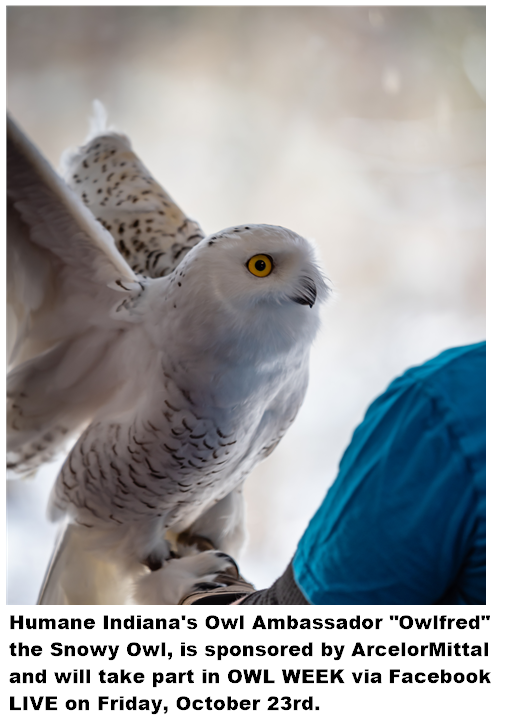 OWL WEEK 2020
Monday, October 19, 2020 8:00 AM 
Saturday, October 24, 2020 5:00 PM
"While we are disappointed, we will not be hosting Festival of Owls this year, our Wildlife Center Director Nicole Harmon has organized a wonderful week and group of speakers to provide an educational and celebratory event," explained Brian Fitzpatrick, CEO, Humane Indiana. "We hope that families will join us during the week through Facebook Live or at their convenience through playback recordings," he added.
During Owl Week, Humane Indiana's timed itinerary includes seven 8-hour days packed with all things owls. Participants will virtually meet Humane Indiana's Wildlife Owl Ambassadors Owlfred, Snowy Owl; Harrison-Tonks and Errol, Great Horned Owls; and Arlene and Cinna, Screech Owls. "We're collaborating with local organizations including Brad Bumgardener from Indiana Audubon Society; Sarah Barnes from Shirley Heinze Land Trust, and Marie Laudeman from the Indiana Dunes State Park," said Nicole Harmon, Humane Indiana Wildlife Center Director. "We've also planned craft time for kids with owl-related projects, and a how-to for owl pellet dissection, which is always interesting for participants," she described.
Those tuning in to Owl Week can expect to learn about the native history of Indiana owls, how to protect owls, how to build an owl box nest, games and crafts, and step-by-step video for dissecting your owl pellet and determining its contents.
Owl Week is free to the public. However, Participation Kits, which include the owl pellet and Humane Indiana Wildlife Activity Workbook, are available for purchase online. Owl Week t-shirts for adults and children are also available for purchase, in addition to owl box building kits. Pick-up and shipping options are available. All proceeds benefit wildlife at Humane Indiana Wildlife Center.

To learn more about Owl Week and to purchase Participation Kits, visit www.humaneindiana.org/calendarowl-week-2020-event/owl-week-2020. 
For more information contact Nicole Harmon, Director, Humane Indiana Wildlife Center at 219.299.8027 or via email nharmon@humaneindiana.org.