Date:
Sun, 01/12/2020 - 12:01am

to

Sat, 01/18/2020 - 11:09pm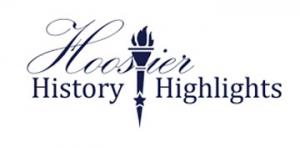 INDIANA QUICK QUIZ
1.  About many miles wide is Indiana east to west?        a/ 120  b/ 140  c/ 160   d/180
2.  Which city is the farthest drive from Indianapolis?  a/ Fort Wayne  b/ Evansville  c/ Richmond   d/ Jeffersonville
3.  The "Constitution Elm" is a landmark in what Indiana city?            a/ Vincennes  b/ Corydon c/ Madison  d/ Richmond
Answers Below 
A Century Ago
1920     Governor James P. Goodrich called a special session of the Indiana Legislature to ratify the Women's Suffrage Amendment of the United States Constitution.  Indiana was the 26th state to approve the amendment, which became effective nationwide in August of 1920.  In signing the document, Governor Goodrich described the measure as "an act of tardy justice."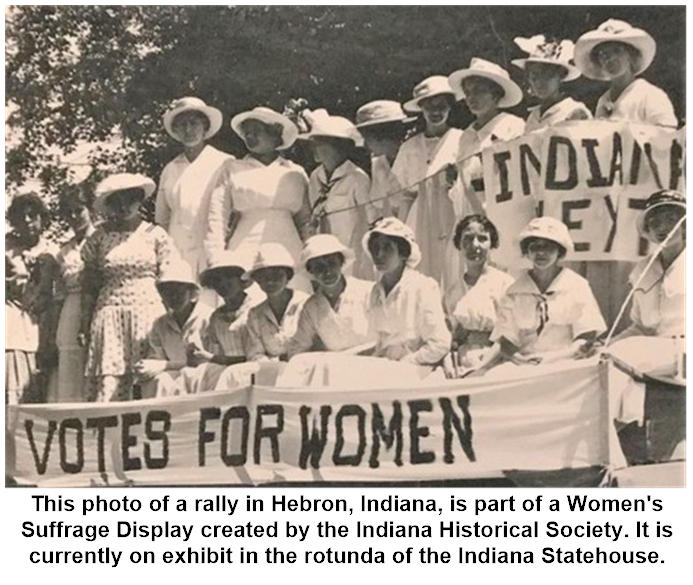 1876     The Oliver Company in South Bend opened a new factory which would employ 400 workers.  The company became famous for its "chilled" plow, which retained its sharp edge and required less cleaning in the field.  The company soon dominated the industry, selling over 62,000 plows in 1878 alone.  
1916     Purdue University named 18-year-old Fred Thomas of Posey County the "Corn King" for the second year in a row.  His crop yielded an average of over 126 bushels of corn per acre.  He and 10 other agricultural contest winners were given a free trip to Washington, D. C.  There they shook hands with President Woodrow Wilson and took a tour of the White House.  Later they met with Vice President Thomas Marshall, former Governor of Indiana.
1931     Will Rogers, cowboy philosopher and star of radio and movies, flew into Indianapolis and landed at Mars Hill Airport.  He was full of his usual wisecracks, but he grew serious when he mourned the recent death of his friend Kin Hubbard, popular Indiana author and cartoonist.  Rogers called Hubbard "America's greatest humorist."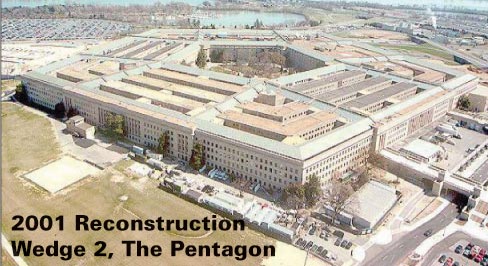 1943     Construction was completed on the United States Pentagon.  The building, which includes 6.5 million square feet of office space, is covered with Indiana limestone.  Finished in only 16 months, it is the largest office building in the world, spanning over 28 acres.  
1958     Johnny Cash and Jerry Lee Lewis were on stage at the Murat Theater for two performances.  Cash had already scored a number one country song with "I Walk the Line."  Lewis was riding high with his top hit, "Great Balls of Fire."  Reserve seats for the show were $2.50, with general admission at $1.75.
The 2020 Census will start in March, when residents across the country will receive a flyer encouraging them to participate.  About 95 percent of American households will receive the flyer, which will ask them to fill out the questions on line.  Some homes will also receive paper questionnaires.     
HOOSIER  QUOTE  OF  THE  WEEK        "Fun is like life insurance:  the older you get the more it costs."  - - - Kin Hubbard
ANSWERS:  1. c/ 160  2.  b/ Evansville  3. b/ Corydon
We are taking orders for this exquisite pin which captures the beautiful colors of the stained glass above the rotunda of the Indiana Statehouse
Follow us:   Instagram @instatehousetouroffice; Facebook @Indiana Statehouse Tour Office and Education Center; Twitter @INSthouseEdCntr
Follow this link to subscribe to Hoosier History Highlights and to view archived editions
INDIANA STATEHOUSE TOUR OFFICE - Indiana Department of Administration
Guided tours of the Indiana Statehouse are offered Monday through Saturday.  For more information, check our website listed at the bottom of this page.
(317) 233-5293 | captours@idoa.in.gov  | http://www.in.gov/idoa/2371.htm