Date:
Sun, 01/24/2021 - 12:01am

to

Sat, 01/30/2021 - 11:59pm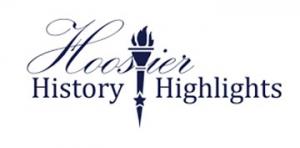 Indiana Quick Quiz
   Match the bridge to its location
1.  Abraham Lincoln Memorial Bridge     2.  Sherman Minton Bridge   3.  Red Skelton Memorial Bridge     4.  John F. Kennedy Memorial Bridge
A.  I-65 South over the Ohio River between Jeffersonville and Louisville
B.  I-64 over the Ohio River between New Albany and Louisville
C.  U.S. 50 over the Wabash River in  Vincennes
D.  I-65 North over the Ohio River from Louisville to Jeffersonville 
Answers Below 
1826     Robert Dale Owen welcomed a "Boatload of Knowledge" to the young community of New Harmony, Indiana.  Led by geologist William Maclure, the passengers included many prominent artists, educators, and scientists.  Traveling from Pittsburgh on a boat named Philanthropist, they landed at Mount Vernon and traveled by wagon to New Harmony.  
Did You Know?
Among the many interesting and historic sites in the town of New Harmony is the Labyrinth.  Many people might call it a maze, but technically it is not.  A maze has multiple courses which do not necessarily lead to the middle.  A labyrinth has a single path.  As long as travelers keep going, they will eventually end up at the center.  The early citizens of New Harmony considered the labyrinth to be a place of reflection and meditation.  The path, always going forward, represented life's journey, which is not always easy.  
1915     William Peet was born in Grandview, Indiana.  His family moved to Indianapolis where he attended Arsenal Technical High School and the John Herron Art Institute.  His talent took him to Hollywood where he was hired by Walt Disney.  Working as an animator, he helped create such classic movies as Snow White and the Seven Dwarfs, Fantasia, Pinocchio, and Dumbo.  He went on to author and illustrate more than 30 children's books.
Hoosier Quote of the Week
   "In grammar school . . .  I always kept a small tablet in my desk and at every chance I would sneak a drawing into it.  Often I'd be surprised to find the teacher standing over me and my tablet would be taken away.  One particular teacher, however, snatched my tablet away just as the others had done and marched to the front of the room with it.  But then, turning to the class, she said, 'I want you to see what William has been doing.'  With an amused smile, the teacher turned the pages for all to see.  After returning the tablet, she encouraged me, saying 'I hope you will do something with drawing someday.'"   - - - William Peet (1915 - 2002)
1937     Eleven days of heavy rain created massive flooding along the Ohio and Mississippi Rivers.  Indiana cities along the Ohio set record flood levels, including Madison, Lawrenceburg, Aurora, and New Albany.  Two-thirds of Evansville and nearly all of Jeffersonville were under water.  The National Guard and members of the Works Progress Administration helped with cleanup.
1946     In an innovative joint broadcast, four Indianapolis radio stations helped raise funds for the fight against polio.  Governor Ralph Gates went on the air to introduce the program, which included Reid Chapman from WISH, Joe Pierson from WFBM, Everett Howard from WIBC, and Wally Nehrling from WIRE.  News was presented by Gilbert Forbes with sports reports from Tom Carnegie.  
1969     The trustees of Indiana University and Purdue University announced plans to merge their Indianapolis campuses into one operation.  The school would be named Indiana University-Purdue University at Indianapolis.  The decision was prompted by the desire of Mayor Richard G. Lugar to have a major state university in the capital city.
2009     Katie Stam of Seymour was crowned "Miss America."  She was the first person from Indiana to win the honor.  In high school, she was a 4-H member and showed dairy cattle at the Jackson County Fair.  She graduated from the University of Indianapolis with a degree in communication.  
Abe Martin Sez:      Look out for the feller who lets you do all th' talkin'.     (Indianapolis News, January 29, 1914)
ANSWERS:  1.  D    2. B    3. C    4.  A  
Video Links     STATEHOOD DAY: Learn about the three branches of government and more!
Follow this link to subscribe to Hoosier History Highlights and to view archived editions
 INDIANA STATEHOUSE TOUR OFFICE - Indiana Department of Administration
Tours of the Indiana Statehouse are offered Monday through Friday by appointment only.  For more information, please contact us.
(317) 233-5293 | captours@idoa.in.gov  | http://www.in.gov/idoa/2371.htm
Take an "Armchair Tour" of the Indiana Statehouse!
Follow us:   Instagram @instatehousetouroffice; Facebook @Indiana Statehouse Tour Office and Education Center; Twitter @INSthouseEdCntr