Date:
Sun, 07/12/2020 - 12:01am

to

Sat, 07/18/2020 - 11:59pm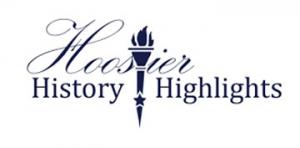 Indiana Quick Quiz
PRESIDENTIAL VISITS TO INDIANA
     Name the President who fits each clue below.
In 1901, this President came to Indianapolis to attend the funeral of a friend and former President,  Benjamin Harrison.
In 1936, this President was in Vincennes to help dedicate the George Rogers Clark Memorial.
In 1971, this President came to Jennings County to help dedicate a marker to commemorate his mother's birth near Butlerville.
Answers Below 
1850     Indiana Governor Joseph A. Wright requested that church bells be rung at 12 noon on July 13 in mourning for the death of United States President Zachary Taylor.  The President had died at the White House a few days earlier.  He had become ill on July 4 while attending a ceremony for the laying of the cornerstone for the Washington Monument.  Taylor was the country's 12th President and a major general of the Army.
1883     Lightning struck the science building at Indiana University.  Fire destroyed the three-story structure and contents, including university records, a 14,000 volume library, and many valuable science collections.  The building had been built 10 years earlier at a cost of $33,000.
1928     A parade was held in downtown Indianapolis to honor Kate and Queen, two mules who had pulled wagons for the Polar Ice Company for 28 years.  Among those in the procession was Mayor L. Ert Slack, who rode in a Victorian coach attended by high-hatted coachmen.  The Indianapolis News said, "Throughout their careers, Kate and Queen have behaved as model citizens, braying an occasional protest, of course, but what citizen has not?"
1939     Carl Fisher died in Florida.  Born in Greensburg, Indiana, he was a pioneer and promoter of automobiles.  He owned one of the first car dealerships in America and was one of the founders of the Indianapolis Motor Speedway.  He led planning for the Lincoln Highway, the first road across America designed for cars.  In later years, he was involved in real estate and introduced the world to Miami Beach.
1987     President Ronald Reagan visited Danville, Indiana, and spoke in the rotunda of the courthouse.  In his remarks, he said, "There is such a thing as common sense in America. . . and isn't it good to know that you can still find it in places like the Hendricks County Courthouse?"  Later in the day, he went to the Indiana Convention Center in Indianapolis to address members of the National Association of Counties.  Pictured:  The Presidential limousine as it arrived in Danville. 
1997     Space Shuttle Columbia landed at the Kennedy Space Center.  On board was astronaut Janice E. Voss from South Bend.  In five missions, she logged 18.8 million miles in space, circling the earth 779 times.  A Purdue graduate, she said she became interested in space at age 12 when she read A Wrinkle in Time from the Madison, Indiana, public library while she was visiting her grandparents in Jefferson County.  
Did You Know?
When Janice E. Voss joined the crew of Space Shuttle Columbia, she became one of the many astronauts who have graduated from Purdue University.  As a matter of fact, Purdue is called the "cradle of astronauts."  According to the university website, at least 25 astronauts have been Purdue grads.  In addition to Voss, the list includes Neil Armstrong, Gus Grissom, Gene Cernan, Loren Shriver, David Wolf, Jerry Ross, Drew Feustel, and Beth Moses.  Nearly a third of all United States spaceflights have included a Purdue grad, and 10 missions have included multiple Purdue alumni.
Hoosier Quote of the Week
"Back of every good belly laugh there is a familiarity with things not funny at all."   - - - Carole Lombard (1908 - 1942)
ANSWERS  1.  William McKinley  2.  Franklin D. Roosevelt  3.  Richard Nixon
INDIANA STATEHOUSE TOUR OFFICE - Indiana Department of Administration
NOTE:  Due to the Coronavirus threat, tours of the Statehouse have been suspended until further notice.  You may still contact us by phone and e-mail. You are invited to take a "Virtual Tour" of the Statehouse by clicking the link at the bottom of this column. 
Take an "Armchair Tour" of the Indiana Statehouse!
(317) 233-5293 | captours@idoa.in.gov  | http://www.in.gov/idoa/2371.htm
Follow us:   Instagram @instatehousetouroffice; Facebook @Indiana Statehouse Tour Office and Education Center; Twitter @INSthouseEdCntr