Date:
Wed, 09/16/2020 -

6:30pm

to

8:30pm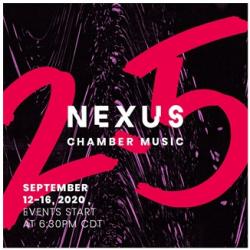 Featuring prizewinning cellist Brannon Cho in a premier of a brand-new video of Benjamin Britten's iconic Cello Suite #1 Op. 72, and including an artist spotlight with Brannon Cho
The NEXUS 2.5 Virtual Chamber Music Festival included five evenings:  September 12th, September 13th, September 14th, September 15th, and September 16th, all broadcast from Guarneri Hall in Chicago, with new content including premiere performances, interviews with the artists, and behind-the-scenes profiles of the Guarneri Hall production team.
The 4 non-Groupmuse evenings of the festival are available with the purchase of a one-time pass for $20. Groupmuse ticket purchasers are entitled to a $5 discount.  https://guarnerihall.org/events/
Guarneri Hall NFP is partially supported by a grant from the Illinois Arts Council Agency.
Visit https://guarnerihall.org/events/ for additional program details.