Date:
Sun, 08/02/2020 -

2:00pm

to

4:00pm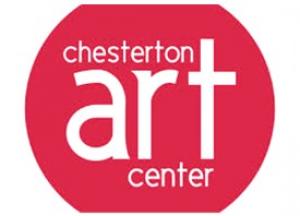 The Chesterton Art Center will be presenting an exhibit of the late Robert Hoffman's work titled, "Captured Moods: A Robert Hoffman Retrospective" starting with an opening reception on Sunday, August 2 from 2-4. Robert's wife, Wilma, and daughter, Barb Knuckles, are curating the exhibit. "The exhibit will include examples of his work from various locations, weighted toward the Indiana Dunes first and Brown County second, since those were the places he painted most.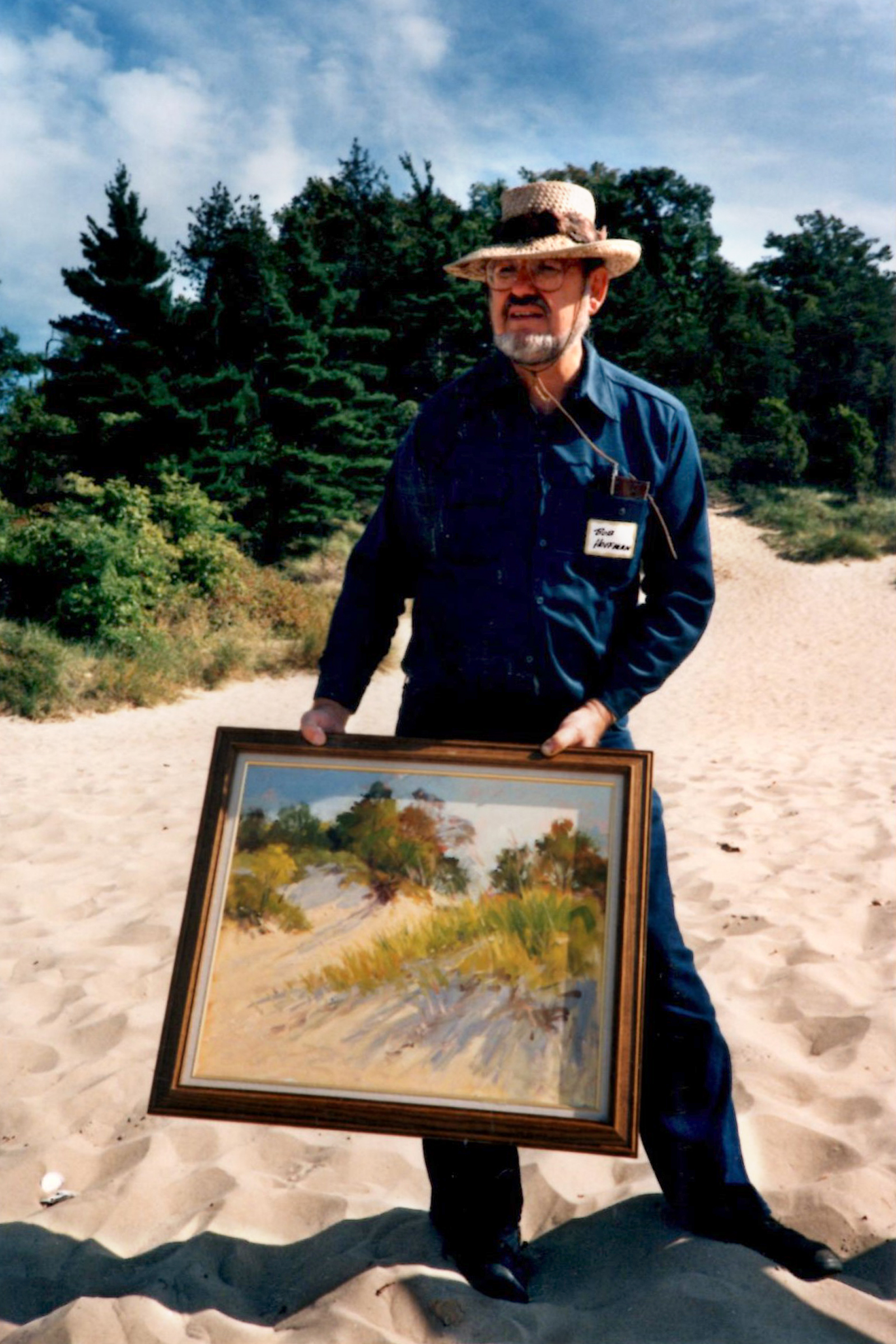 We are picking the best examples that include some different techniques - pastel, oil and a few acrylic."
Robert grew up in Gary, Indiana, where he attended Tolleston High School and distinguished himself with his drawings and cartoons. He married Wilma Hough in 1952 and celebrated 65 years of marriage before we passed away. While working as a brick layer at Inland Steel, he took classes at the Chicago Academy of Fine art while supporting himself and his family. He studied under Hal Rogoff, Kay Pool, Frederick Rigley, Ken Gore, Franklin Jones, Jim Pollard and Don Stone. 
In 1972, he started teaching classes and outdoor workshops. His analytical teaching style helped him break down his art knowledge and skills into sequential components. He was a much beloved instructor in NW Indiana.   
In 1981, Robert jumped at the opportunity for an early retirement and became a full-time artist. He worked in mostly oils and pastels, showing his work at local art fairs and regional shows. He preferred to work "en plein air" (outdoors) whenever possible and could be found toting his French easel and gear outside in any season. 
In his studio in Merrillville, he painted still lifes, florals, and portraits, often working from his extensive collection of slides. He enjoyed group painting excursions to Monhegan Island, Maine; Sedona, Arizona; Taos, New Mexico, and Cedar Key, Florida.
In his own words, Robert says, "I believe that an artist, whatever his discipline, is a communicator of ideas and emotions. My goal as an artist is to communicate unity and beauty that I see in nature. I like to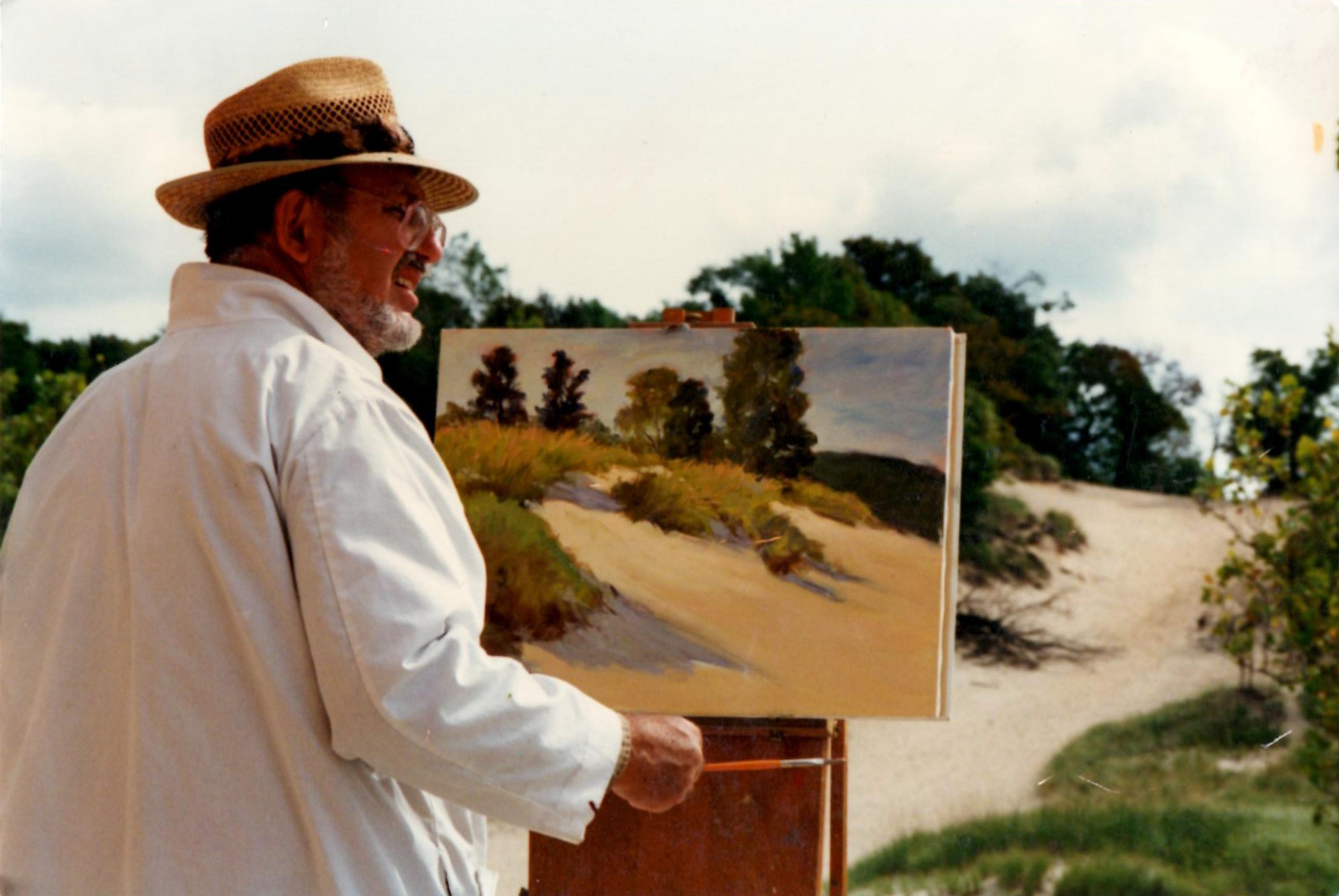 capture the feeling of light and atmosphere just as the French Impressionists did, but I also like to maintain the feeling of substance or three dimensional bulk as did the American impressionist. As with impressionism, my work is designed to come alive when viewed from a distance rather than close." 
In his long career, he participated in 15 solo exhibits, and was included in multiple Hoosier Salon Annual exhibits where he received a Prize of Distinction and a Merit Award. He was featured in multiple galleries including the Brown County Art Guild Legacy Collection and the Chesterton Art Center. His work is found in many public and private collections. And he has taught art classes all over the country. 
Robert suffered from dementia in the last decade of his life, making it challenging to continue painting. He passed away in 2017, just a few weeks before his 87th birthday.   
The "Captured Moods: A Robert Hoffman Retrospective" will open on Sunday, August 2 from 2-4 and will hang at the Chesterton Art Center through Saturday, August 29. This is a free event, open to the public. The regular hours are weekdays 11-4, and Saturdays 10-2. To provide a safe environment for the community, all guests are required to wear a mask and practice social distancing at the Art Center. The Chesterton Art Center is located at 115 S. 4th St., Chesterton, IN 46304. For more information about this and other events, please see the website at www.chestertonart.com. 
Chesterton Art Center
115 South Fourth St.
Chesterton, IN 46304
219.926-4711
www.chestertonart.com
https://www.facebook.com/chestertonartcenter/