Date:
Sat, 11/28/2020 -

10:00am

to

12:00pm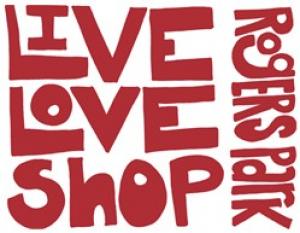 The nonprofit Rogers Park Business Alliance (RPBA) announces that its annual Live Love Shop Rogers Park holiday rebate program becomes virtual this year, kicking off on Small Business Saturday, November 28, 2020. Dozens of unique independent businesses in the neighborhood will offer special discounts and promotions both in-store and online from November 28 through December 31, 2020.
A virtual holiday kickoff hosted at XO Marshmallow will take place on Small Business Saturday, November 28, 10 a.m. - 12 p.m. live on RPBA's Instagram account (@rogersparkba). During the live stream, shoppers will meet local businesses while learning about their special offers for Small Business Saturday and the holiday season.
Live Love Shop Rogers Park offers rebates to shoppers who patronize independently owned businesses in Rogers Park during the holiday season. From Saturday, November 28, through Thursday, December 31, customers who shop at independently owned Rogers Park stores are eligible for a rebate based on the total amount spent. Those who collect $150 or more in receipts will receive a $50 rebate, and those with receipts totaling $200 or more will receive a $75 rebate. To qualify for the rebate, a completed rebate form and original receipts (hard copy or digital/email confirmation dated between November 28 and December 31, 2020; no gift receipts allowed) must be turned in to RPBA by Friday, January 8, 2021, 4 p.m. For the first time in the rebate history, shoppers will be able to fill out an online form and upload receipts when submitting the rebate forms. The link to the online form will be live on RPBA's website one week before Small Business Saturday. Shoppers will still be able to pick up a hardcopy of the form and mail the receipts if they choose to. For more information and official rebate rules, visit rpba.org/live-love-shop.
Rogers Park Business Alliance (RPBA) is a nonprofit organization that has served Chicago's diverse Rogers Park neighborhood for more than 25 years. RPBA works to cultivate and sustain a thriving economic environment in Rogers Park, serving businesses and residents with a variety of public events and business initiatives. RPBA programs include the GROW/PROGRESANDO entrepreneurial training program, the Illinois Small Business Development Center at Rogers Park Business Alliance, annual Best of Rogers Park awards, Chalk Howard Street and Taste of Clark Street festivals, and the Glenwood Sunday Market farmers market. For more information, visit RPBA.org.