Date:
Sun, 09/15/2019 - 12:01am

to

Sat, 09/21/2019 - 11:59pm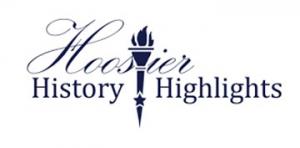 Indiana Quick Quiz
 What type of canned food made a fortune for Indianapolis businessman Gilbert Van Camp?
 What is produced by the Clabber Girl Company in Terre Haute?
The Sechler Company in St. Joe is famous for what type of food product?
Answers Below 
1821     In accordance with the Treaty of St. Mary's, Chief Anderson and over 1,300 Delaware Indians left their homeland on the White River in Indiana to journey to new lands west of the Mississippi River.  They made a home in Missouri for a few years before being relocated to the Kansas Territory.  
Did You Know?
     The city of Anderson, Indiana, is named for Chief William Anderson of the Delaware Indian Tribe.  His Native American name was Kikthawenund.  He was known for his peaceful attitude and patience.  Speaking of the Delawares, William Henry Harrison said, "As enemies and friends, (they have) left upon my mind the most favorable impression of their character, for bravery, generosity and fidelity to their engagements."
1874     Indianapolis businessman William S. Wooton advertised his "Patent Cabinet Office Secretary," a massive wooden desk four to five feet in height, with numerous drawers, shelves, and compartments.  Called the "King of Desks," it was said to be used by Queen Victoria, U. S. Grant, and John D. Rockefeller.  
Artist's rendering of an early streetcar
1890     The first mule-powered streetcar began operation in Columbus from the Crump Theater to Orinoco Avenue.  Public officials and members of the press occupied the first car on the initial run.  The public was given free rides for the first hour. 
1905     The Indianapolis Post Office began moving into the new United States Federal Building on East Ohio Street.  The massive structure, constructed of Indiana limestone, features marble columns, mosaic tile ceilings, and cantilevered marble staircases.  The beaux-arts style of architecture influenced future buildings in the city, including city hall and central library.  
1917     Several thousand attended the dedication of a branch of Methodist Hospital in Princeton, Indiana.  Main speaker at the event was former United States Senator Charles W. Fairbanks, who had also served as Vice President under Theodore Roosevelt.  In transferring ownership to the hospital, attorney Claude A. Smith said it was the most important warranty deed ever executed in Gibson County.  
1939     "In Old Monterey" opened at the Alamo Theater on North Illinois Street in Indianapolis.  The movie, starring Gene Autry, was the first film for the "Hoosier Hot Shots," a popular musical comedy group from Arcadia, Indiana.  Starting in local radio, they moved to Hollywood where they made dozens of western movies, appearing with Gabby Hayes, Dale Evans, and even the Three Stooges.  Their work inspired later performers like Spike Jones and "Weird Al" Yankovic.
HOOSIER QUOTE OF THE WEEK
"There is no place like home for wearing what you like."  - - George Ade
ANSWERS:  1.  Pork and beans  2.  Baking Powder  3.  Pickles
Watch Hoosier History Highlights live each Friday morning at 9:00. Tune to Facebook Live @ Indiana Statehouse (Tour and Ed Center)
Indiana Statehouse Tour Office - Indiana Department of Administration - Guided tours of the Indiana Statehouse are offered Monday through Saturday.  For more information, check out our website, www.in.gov/idoa/2371.htm,  call (317) 233-5293, or email captours@idoa.in.gov   
Follow us on Instagram: @instatehousetouroffice