Date:
Sun, 09/27/2020 - 12:01am

to

Sat, 10/03/2020 - 11:59pm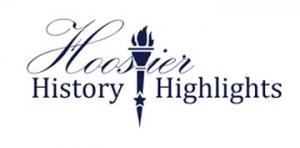 Indiana Quick Quiz
Most of the 92 Indiana counties are named for people in history.  Identify the county connected to each person below.  
The third United States  President     
The inventor of the steamboat   
The first Chief Justice of the U.S. Supreme Court   
The first Secretary of the Treasury (and subject of a recent Broadway show)   
The first signer of the Declaration of Independence
Answers Below 
1879     President Rutherford B. Hayes and his wife Lucy were welcomed to Indianapolis by a parade through downtown.  Later they were treated to a reception hosted by General Benjamin Harrison and his wife Caroline at their home on North Delaware Street.  The Presidential Party included General William T. Sherman.  
1893     It was "Indiana Day" at the huge Columbian Exposition World's Fair in Chicago.  Nearly 100,000 Hoosiers went to the Fair on that day alone.  Among those on the speaker's platform were former President Benjamin Harrison, Indiana Governor Claude Matthews, and Hoosier Poet James Whitcomb Riley.  Noting the size of the multitude, Harrison said that he had spoken to nearly all the people in Indiana in sections, but never at the same time.  Pictured:  The Indiana Building at the Fair.
Did You Know?
     The Columbian Exposition in Chicago was one of most popular public events of the 19th Century.  Categorized as a "World's Fair," it drew more than 27 million people during its six-month run in 1893.  Hoosiers traveled there in great numbers, given the ease of getting there by any of the several trains that left Indianapolis each day.  A round trip by rail was $8.00 (approximately $230 in today's dollars.)  Nearly one in seven Indiana citizens took the trip at least once.  The state was well represented in the many displays.  There was glass from Kokomo, oil tanks from Fort Wayne, refrigerators from Michigan City, and washing machines from Evansville.  Indiana natural gas helped power the stunning array of electric lights, which prompted many spectators to describe the Fair as the "Beautiful White City."  
1905     George M. Cohan was on stage at the English Opera House in Indianapolis with his production of "Little Johnny Jones."  The show introduced such popular songs as "Yankee Doodle Boy" and "Give My Regards to Broadway."  Cohan told local reporters that he did not want to be taken seriously as either a playwright or musician.  "I just want to please the people," he said, adding that he would return to the city soon with another show called "Forty-five Minutes from Broadway."
1935     Anna Sage came to the Indiana Statehouse to request a pardon from Governor Paul V. McNutt.  Sage, known in the press as the "Woman in Red," had assisted the FBI in the capture of John Dillinger outside the Biograph Theater in Chicago.  An immigrant, she was being threatened with deportation for alleged criminal activity in Lake County.  The Governor did not act upon her request for pardon, and a Federal Court had her deported to Romania three months later.  
1946     The first "Sagamore of the Wabash" award was presented to Kentucky Governor Simeon S. Willis.  The honor was bestowed by Indiana Governor Ralph F. Gates.  Over the years, the title has honored hundreds of people who have served the Hoosier State with their skills, talents, and services.  In the Native American culture, a "Sagamore" is a leader to whom the chief would look for wisdom and advice.  
1955     Actor James Dean was killed in Cholame, California, when his Porsche 550 Spyder sports car collided with another car at an intersection.  Dean, age 24, was born in Marion and grew up in Fairmount, Indiana.  In his short Hollywood career, he starred in three major motion pictures:  East of Eden, Rebel Without a Cause, and Giant.  
Hoosier Quote of the Week
"An actor must interpret life, and in order to do so must be willing to accept all experiences life has to offer.  In fact, he must seek out more than life puts at his feet."   - - - James Dean (1931 - 1955)
ANSWERS: 1.  Jefferson County  2.  Fulton County  3.  Jay County  4.  Hamilton County  5.  Hancock County
Follow this link to subscribe to Hoosier History Highlights and to view archived editions
 INDIANA STATEHOUSE TOUR OFFICE - Indiana Department of Administration
(317) 233-5293 | captours@idoa.in.gov  | http://www.in.gov/idoa/2371.htm
Take an "Armchair Tour" of the Indiana Statehouse!
Follow us:   Instagram @instatehousetouroffice; Facebook @Indiana Statehouse Tour Office and Education Center; Twitter @INSthouseEdCntr