Date:
Sun, 09/20/2020 - 12:01am

to

Sat, 09/26/2020 - 11:59pm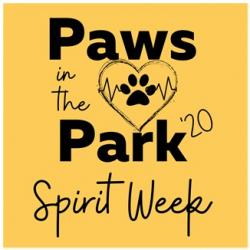 We are continuing to celebrate this year's event but we're pivoting to a virtual event for the safety of our supporters during the pandemic," explained Brian Fitzpatrick, Humane Indiana CEO. "Participants can still walk with their pets in the safety of their neighborhoods and communities in a way that they are protected, and feel safe and comfortable," he added.
"This is a different take on an event that's been extremely successful over the years in supporting our homeless pets, and we encourage families, companies, and groups to participate in this all-inclusive event this year," said Lisa Carpenter, Humane Indiana Chief Development Officer. "We're grateful for the continued support from our animal-loving community and especially to our sponsors; through their generosity, we are ecstatic and humbled that we have raised $40,000 so far," she said.
The all-inclusive Spirit Week offers flexibility for participants to not only walk/run at their convenience, but also encourages pet owners and non pet owners to simply enjoy time in their own way in honor of pets. Participants are asked to sign-up online and create a fundraising page for our homeless shelter pets.
Participants raising/donating $50 or more receive an official Paws in the Park t-shirt.  Spirit Week-goers are also encouraged to capture their participation in photos or video and tag the event in social media #PIP2020.  Spirit Week offers fun activities for families and their pets, including pet enrichment tips, a petthemed music playlist, a downloadable run/walk bib, and more.
WALK PLAY
Our Paws in the Park Virtual Walk means we will not physically gather in person for this event.
Join us for a fun-filled week for all ages to support our homeless shelter pets while participating in healthy activities for everyone, including walking.
You pick the time: whatever works for you and your schedule to participate.
You pick the pace: walk or run, or simply play with your pet.
You pick the place: your neighborhood, your backyard, or community park.
Don't have a pet? No problem. This is an all-inclusive event that supports our homeless shelter pets and celebrates health.
Participation includes pet enrichment tips, our animal-themed music playlist, and other fun activities. 
SMILE
Share the GOOD THAT WE DO TOGETHER! Capture your week-long activities through photos and videos and tag us on Facebook, Twitter, and Instagram #PIP2020
HOW TO PARTICIPATE: Register online at www.HUMANEINDIANA.ORG. Participate as a VIRTUAL WALKER for $25; raise $50 or more and receive an official Paws in the Park t-shirt.
CREATE A WALKING TEAM: It's super easy! Personalize your team name online and ask your friends, family, or co-workers to join your team to help shelter pets. Each team member may participate for a $25 fee. Team members raising $50 or more, receive an official Paws in the Park t-shirt. Visit www.HUMANEINDIANA.ORG to begin creating your team!
For more information or to register for Paws in the Park visit www.humaneindiana.org/calendar/pip2020.  Questions? Email: info@humaneindiana.org.
www.HUMANEINDIANA.ORG | PIP@humaneindiana.org | Humane Indiana is a 501(c)3 not-for-profit organization.