Date:
Mon, 08/02/2021 -

6:00pm

to

7:15pm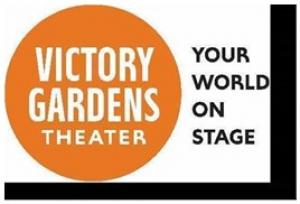 Victory Gardens Theater, under the leadership of Artistic Director Ken-Matt Martin and Acting Managing Director Roxanna Conner, will hold a series of Town Halls to introduce Ken-Matt to the VG community and share news about Victory Gardens' future. The first event, "Ask Me Anything with Ken-Matt Martin" will be held on Zoom on August 2, 2021, from 6:00-7:15pm Central.
Join Victory Gardens for a series of Summer Town Halls with new Artistic Director Ken-Matt Martin. Community members will have a chance to ask Ken-Matt questions, to hear his vision for the theater's artistic future, and to meet some of the artists who are part of the next wave of VG's work. All Town Halls will take place on Zoom, are free and open to the public, and will be closed-captioned. To RSVP, visit: victorygardens.org/event/summer-town-halls/.
"During the first weeks of my tenure at Victory Gardens, I embarked on a 'listening tour' to connect with Chicago artists who have been deeply connected to the Chicago theater community, in order to talk about the history, celebrate the artistry and craft a new future. These Town Halls will welcome people together, including those who already love Victory Gardens and any new or curious patrons and artists—to express their thoughts, to ask questions and to learn what is in store," comments Ken-Matt Martin. "As we plan to welcome back audiences to our venue during the upcoming season, we strive to inspire meaningful civic change within our city and nation and live up to the values of the theater. These Town Halls are the first step in joining together in communication, shared vision and community."
SCHEDULE OF EVENTS
August 2, 2021, 6:00-7:15pm CT
Ask Me Anything with Ken-Matt Martin
Moderated by: Nikkole Salter
Free to attend, but RSVP required
Presented with Closed Captioning
Victory Gardens Theater has a new artistic leader with a bold vision for an innovative, inclusive future. Join us for a candid conversation with Artistic Director Ken-Matt Martin and Theater Communications Group Board Chair Nikkole Salter about the artistic and anti-racism initiatives that will define the next chapter of Victory Gardens. This town hall style-discussion will be held on Zoom and is free and open to the public.
Additional  Summer Town Hall:
August 23, 2021, 6:00-7:15pm CT
Artistic Roundtable with the VGT Playwrights Ensemble
Free to attend, but RSVP required
Presented with Closed Captioning and ASL Interpretation
Victory Gardens is proud to welcome Marisa Carr, Keelay Gipson, Isaac Gómez, and Stacey Rose to the VGT Playwrights Ensemble. In this roundtable discussion with Artistic Director Ken-Matt Martin and the Ensemble artists, you'll get the chance to meet these remarkable writers, to learn about their work, and to discuss how theaters can be held accountable to the artists they serve. This Zoom conversation is free and open to the public.
Ken-Matt Martin (Artistic Director) was born in Little Rock, AR, and began his life in the performing arts as a child actor after booking an appearance on Nickelodeon's landmark series All That. He was educated and received theatrical training at Arkansas Repertory Theatre, Drake University (Musical Theater/Journalism), and Brown University/Trinity Rep where he received an MFA in Directing. Following a decade-long stint as a professional actor that included roles in plays and musicals at regional theaters and numerous commercials he transitioned to directing and producing full-time. His life in the theater led him to adopt the personal mission of using theater as a catalyst for social change.
Martin, inspired by the Black Arts Movement, co-founded Pyramid Theatre Company in Des Moines, IA where he served as Executive Director until 2018. The company commits itself to the tenet of Sankofa, a word in the Akan language of Ghana meaning "return to retrieve" and is the only theater company committed to Black writers in the state of Iowa. Martin's producing and directing credits in Des Moines have received thirty-four Cloris Leachman Excellence in Theatre Award nominations, including two awards for Best Play and a Special Honor for Martin in 2016 for his exemplary service to the Des Moines arts community. Pyramid also received the Bravo Greater Des Moines 2018 Standing Ovation award for excellence in artistic leadership during Martin's tenure. Selected directing credits include productions of Civil Sex by Brian Freeman, Mississippi Goddamn by Jonathan Norton, Tripping Over Roots by Jaymes Jorsling, Love's Labour's Lost, Prowess by Ike Holter, Shakuntala, tick..tick..Boom and a film entitled The Last Supper, being released later this year.
In 2018, Martin was named Producing Director of Williamstown Theatre Festival (WTF). Martin was previously the Bill Foeller Directing Fellow at WTF where he directed A Son, Come Home by Ed Bullins and Brotherhood by Louis Reyes McWilliams. During his tenure at WTF as Producing Director he produced the world premiere productions of Grand Horizons, Selling Kabul, Before The Meeting, A Human Being of A Sort, Tell Me I'm Not Crazy, and revivals of Ghosts starring Uma Thurman and A Raisin in the Sun directed by Robert O'Hara. Martin also negotiated the Off-Broadway transfers of Moscow Moscow Moscow Moscow Moscow Moscow, Seared and Selling Kabul. Additionally, he negotiated the Broadway transfers of The Sound Inside (2020 Tony Nomination) and Grand Horizons (2020 Tony Nomination). After leaving WTF in the fall of 2019, Martin was named the Associate Producer of Goodman Theatre. At Goodman, he co-created and curated the Future Labs new play development program and also created and produced Live @ 5 during the pandemic. Martin served three years on the Board of Directors of Employee and Family Resources of Iowa. He also previously served as a member of Drake University's National Alumni Board. After moving to Chicago, he joined the board of Season of Concern. In addition to his volunteer work, he also serves as a consultant and anti-racism facilitator for New York City Center, Design Action, and Arkansas Repertory Theatre.
Los Angeles-born, OBIE Award-winning actress and writer Nikkole Salter arrived onto the professional scene with her co-authorship and co-performance (with Danai Gurira) of the Pulitzer Prize-nominated play, In the Continuum (ITC). For its Off-Broadway run at Primary Stages and the Perry Street Theatre and for its US State Department and Bloomberg-sponsored international tour, Ms. Salter received an OBIE Award, and the NY Outer Critics Circle's John Gassner Award for Best New American Play, the Seldes-Kanin fellowship from the Theatre Hall of Fame, and the Global Tolerance Award from the Friends of the United Nations, to name a few. Ms. Salter also received Helen Hayes and Black Theatre Alliance nominations for Best Actress for her performance.
As an actress, Ms. Salter can be seen in Gavin O'Connor's feature film Pride & Glory starring Ed Norton, Colin Farrell and Jon Voight, and heard as the voice of Laticia in Rockstar Games' video game release, Midnight Club: Los Angeles. Ms. Salter was most recently seen originating a starring role in McArthur Genius Award, TONY-nominated playwright Dominique Morisseau's play Mud Row, as Sally Childress, a fictional character based on the real Geraldine Whittington, and as Coretta Scott King in the Broadway production of Robert Schenkkan's play The Great Society. She is currently starring in the 3rd season of New Amsterdam as Isabel Sarasa, the hospital's Chief Equity Officer.
As a dramatist, Ms. Salter has written 8 full-length plays, been commissioned for full-length work by 6 institutions, been produced in 5 countries on 3 continents, and been published in 12 international publications. Her work has appeared in over 20 Off-Broadway, regional and international theatres. Ms. Salter is a 2014 MAP Fund Grant recipient, a Eugene O'Neill Theater Center National Playwrights Conference semi-finalist, USA Fellowship nominee, a two-time Playwright's of New York (PoNY) Fellowship nominee, is currently working on a commission from Woolly Mammoth Theatre Company.
Amid an emerging acting/writing career, Ms. Salter's deep sense of social responsibility led her to co-found (with NSangou Njikam) and serve as Executive Artistic Director of THE CONTINUUM PROJECT, INC., a 501(c)3 non-profit organization that creates innovative artistic programming for community empowerment and enrichment. Ms. Salter is an active member of the Actors Equity Association, the Screen Actors Guild/American Federation of Television and Radio Artists, and the Actors Center; and sits on the Council of the Dramatists Guild and serves as Chair of the Board of the Theatre Communications Group. She received her BFA in theatre from Howard University and her MFA from New York University's Graduate Acting Program.
The Playwrights Ensemble, 2021-2024 cohort, is Marisa Carr, Keelay Gipson, Isaac Gómez, and Stacey Rose.
Marisa Carr is playwright from Milwaukee, now living in Chicago after a decade in the Twin Cities. Her work has been presented and/or produced by institutions including: Milwaukee Rep, The Guthrie, Pillsbury House + Theater, the Playwrights' Center, Montana Repertory Theater, Intermedia Arts, and University of Iowa MFA Program. Selected recent awards and honors include: Montana Repertory Theater Warren Miller Commission (2021), Goodman Playwrights Unit (2020-2021), Scratchpad at the Playwrights' Realm (2019-2020), P73 Finalist (2019-20), American Blues Theater Blue Ink Award Finalist (2020), Bay Area Playwrights' Festival Finalist (2019), McKnight Fellowship in Playwriting Finalist (2019), Jerome Artist Fellowship Finalist (2019), Ground Floor at Berkeley Rep (2018), Forward Flux Three New American Plays Commission (2018), Minnesota State Arts Board Artist Initiative Grant (2017), Playwrights' Center Many Voices Fellowship (2016-17), Pillsbury House + Theater Naked Stages Fellowship(2015), and "Best New Political Playwright" (Lavender Magazine, 2014). Marisa is also Co-Founder/former Artistic Director of the Turtle Theater Collective, a Twin Cities-based company committed to producing high-quality, contemporary work that explores Native experiences and subverts expectations about how and when Native artists can create theater, and has taught playwriting for theaters including the Guthrie and Jungle Theatre. She is Turtle Mountain Ojibwe from the Turtle clan.
Keelay Gipson is an Activist, Professor, and award-winning Playwright based in New York and hailing from Tulsa, OK. His plays include demons. (JAG Fest/Dartmouth HOP Center), The Red and the Black (Finalist; The O'Neill, Sundance Theatre Lab), #NewSlaves (Finalist; Princess Grace, The O'Neill, Seven Devils), imagine sisyphus happy (Finalist; The O'Neill, P73 Summer Residency), CRH, or the placenta play (Semi- Finalist; The O'Neill, Bay Area Playwrights Conference, AADA Main Stage Live!), Nigger/Faggot (Downtown Urban Theater Festival), The Lost Or, How to Just B (Kernodle New Play Award), What I Tell You in the Dark (Finalist; Premiere Stages at Kean University), and Mary/Stuart, a dramatic queering of Friedrich Schiller's classic play (BAM Next Wave Festival, partnership with Wendy's Subway and Lambda Literary). He is the recipient of a Barrington Stage Spark Grant, the NYSAF Founders' Award, the Van Lier Fellowship at New Dramatists, as well as writing fellowships with Lambda Literary, The Amoralists, Page 73 and the Dramatist Guild Foundation. He has held residencies at the MacDowell Colony, the Cultural Affairs Department of the City of New York, the Administration of Children's Services of the City of New York, New York Stage and Film's Powerhouse Season at Vassar College and Yale University. His work has been developed at The Bushwick Starr, Wild Project, HERE Arts Center, Pace University, West Connecticut University, National Black Theater, Rattlestick Playwrights' Theater, The Fire This Time Festival, Classical Theater of Harlem, and New York Theatre Workshop. He is published in The Best American Short Plays anthology by Applause Theatre and Cinema Books and 48 Hours in Harlem, Vol. 3 by Harlem9. He has taught workshops, courses and masterclasses at NYU, Pace University, Rutgers University, Fordham, and the Kennedy Center American College Theater Festival. Keelay and fellow Playwrights Ensemble member Stacey Rose developed the "Requirements for BIPOC Artists" survey to hold theatres accountable.
Isaac Gómez is an award-winning Chicago- and Los Angeles-based playwright and screenwriter originally from El Paso, Texas/Ciudad Juárez, Mexico. He is currently under commission with LCT3, Steppenwolf Theater Company, South Coast Repertory, Denver Center for the Performing Arts, and IAMA Theatre Company. His plays have been produced and/or developed by Audible Theater, Steppenwolf Theater Company, Primary Stages, Oregon Shakespeare Festival, Goodman Theatre, the Alley Theatre, and many others. He is the recipient of the 2018 Dramatists Guild Lanford Wilson Award, the 2017 Jeffry Melnick New Playwright Award at Primary Stages, an inaugural 3Arts "Make A Wave" grantee. His television credits include the Netflix Original Series Narcos: Mexico, Kings of America on Netflix, and is currently working on upcoming Apple TV+ Limited Series The Last Thing He Told Me. On the feature side, he is currently under development with a full-length feature at Focus Features. He enjoys good bowls of menudo on Sundays (con bolillos not tortillas, porfis) and can slay a game of millennial loteria. He is represented by The Gersh Agency, ReDefine Entertainment, and Granderson Des Rochers, LLP.
Stacey Rose is a Charlotte-based, award-winning, nationally produced playwright. Her work celebrates and explores Blackness, Black identity, body politics and the dilemma of life as the "other." Stacey has held fellowships/residencies with The Arts & Science Council, The Dramatists Guild, The Playwrights' Center, Sundance Theatre Lab, The Goodman Theatre, The Civilians, and Tofte Lake Center.  Her work has been presented at: The Fire This Time Festival, The Lark, The Amoralists Theatre Company, Rattlestick Playwrights Theatre, National Black Theatre, Pillsbury House Theater, Barrington Stage Company, and Kansas City Rep.  Stacey's plays America v. 2.1, As Is and Legacy Land were featured on the Kilroys' list. Stacey is a recipient of a 2019 Virginia B. Toulmin Foundation Women's Commissioning Grant in partnership with Rattlestick Playwrights Theatre and an Alfred P. Sloan foundation commission in partnership with Manhattan Theatre Club. She currently writes for 9-1-1 on Fox. Stacey, along with director Martin Damien Wilkins, co-founded the Queen City New Play Initiative to support local and southern playwrights in the creation of new work for the stage.
The Summer Town Hall Series is sponsored by Mayer Brown LLP.
Victory Gardens Theater receives major funding from the Joyce Foundation, John D. and Catherine T. MacArthur Foundation, Shubert Foundation, and Wallace Foundation.
Additional major funding comes from Crown Family Philanthropies, Lloyd A. Fry Foundation, the Illinois Arts Council Agency, and Polk Bros. Foundation.
Major funders also include: Allstate, Alphawood Foundation, Paul M. Angell Family Foundation,  City of Chicago Department of Cultural Affairs and Special Events, Edgerton Foundation, Exelon, Ralla Klepak Trust for the Performing Arts,  David Rockefeller Fund, The Virginia B. Toulmin Foundation, and Venturous Theater Fund of the Tides Foundation.
Additional funding this season: Charles H. and Bertha L. Boothroyd Foundation, Coffman Law Offices, ComEd, Golden Country Oriental Foods, Goldman Sachs, John R. Halligan Foundation, Illinois Humanities Council, ITW, MacArthur International Connections Fund, MAP Fund, Mayer Brown LLP, The McVay Foundation, Metropolitan Capital Bank and Trust, National Endowment for the Arts, PNC Financial Services Group, Prince Charitable Trusts, Pritzker Pucker Family Foundation, Pritzker Traubert Foundation, Charles and M.R. Shapiro Foundation, and William H. Weiss Foundation.
Covid-19 Emergency Relief Funding: Arts Work Fund— Arts for Illinois Relief Fund (at the Chicago Community Foundation), Illinois Department of Commerce and Economic Opportunity Business Interruption Grant.
Capital improvement support from Landmarks Illinois—Barbara and Thomas Donnelley Preservation Fund, the Performing Arts Venue Fund at the League of Chicago Theaters, with funding from the John D. and Catherine T. MacArthur Foundation.
About Victory Gardens Theater
Under the leadership of Artistic Director Ken-Matt Martin and Acting Managing Director Roxanna Conner, Victory Gardens is dedicated to artistic excellence while creating a vital, contemporary American Theater that is accessible and relevant to all people through productions of challenging new plays and musicals. Victory Gardens Theater is committed to the development, production and support of new plays, which has been the mission of the theater since its founding, set forth by Dennis Začek, Marcelle McVay, and the original founders of Victory Gardens Theater, and continued by former Artistic Director Chay Yew.
Victory Gardens Theater is a leader in developing and producing new theater work and cultivating an inclusive Chicago theater community. Victory Gardens' core strengths are nurturing and producing dynamic and inspiring new plays, reflecting the diversity of our city's and nation's culture through engaging diverse communities, and, in partnership with Chicago Public Schools, bringing art and culture to our city's active student population.  
Since its founding in 1974, the company has produced more world premieres than any other Chicago theater, a commitment recognized nationally when Victory Gardens received the 2001 Tony Award for Outstanding Regional Theatre. Located in the Lincoln Park neighborhood, Victory Gardens Biograph Theater includes the Začek-McVay Theater, a state-of-the-art 259-seat mainstage, and the 109-seat studio theater on the second floor, named the Richard Christiansen Theater.
For more information about Victory Gardens, visit www.victorygardens.org.  Follow us on Facebook at Facebook.com/victorygardens, Twitter @VictoryGardens, and Instagram @victorygardenstheater.