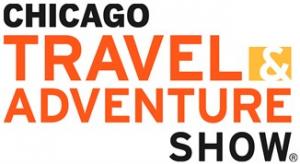 Travelers looking to find, plan and book their next vacation will discover thousands of travel options to explore and meet local destination experts from around the world to help them get there with exclusive offers and savings at the 16th annual Chicago Travel & Adventure Show. Taking place February 8 and 9 at the Donald E. Stephens Convention Center in Rosemont (5555 N. River Rd), travel enthusiasts will have the opportunity to meet face-to-face wtih travel experts to help attendees personalize and book their dream vacation.
From Alaska to Florida, Mexico to Africa, Europe to the top cruise lines in the world - visitors will find an incredible variety of travel options at the Travel & Adventure Show. The price of admission also includes access to dozens of inspirational, educational and culturally focused sessions on four stages on the show floor, along with hands-on activities for the whole family, prizes and giveaways.
"At the Travel & Adventure Show, guests get the chance to meet like-minded travelers from all over the world and receive personal consultation from representatives at top travel brands," said John Golicz, CEO of Unicomm, LLC, the producer of the Travel & Adventure Show Series. "What's more, each of these representatives are on-hand to bring travelers' plans to life, at prices they can't find anywhere else. Visitors to America's Favorite Travel Show have the opportunity to learn and get inspiration from top celebrity travel experts and be immersed in cultures from around the globe."
One of the many highlights of the Chicago Travel & Adventure Show is the opportunity to meet and gain inspiration from the world's top travel celebrities and experts as they present informative seminars and answer questions over the two-day event. Keynote speakers in attendance include:
Josh Gates, Host and Executive Producer of Discovery Channel's Expedition Unknown
Rick Steves, Travel Writer, Host of Rick Steves' Europe and Travel with Rick Steves
Pauline Frommer, Editorial Director of the Frommer Guides and Publisher of Frommers.com
Peter Greenberg, Emmy Award-Winning Investigative Reporter and Producer and CBS News Travel Editor
"I'm looking forward to being in Chicago for this year's Travel & Adventure Show," said Greenberg. "I've always believed that if you can understand the process, that's when you can value the product. And when it comes to travel, if you don't know the right questions to ask, or the right person to ask, then it's easy to become a victim. I'll walk you through that process during the Chicago show."
On the Savvy Traveler Theater stage, visitors will interact with travel experts on subjects ranging from packing and travel technology, to maximizing credit card reward point sand what to do if a mishap strikes while traveling.
In the Destination Theater, travelers will receive destination-specific information from local experts containing information on when to go, how to get there, what to see and local, off the beaten path attractions from destinations such as Alaska, Switzerland, Australia and Italy, among others.
At the Global Beats Stage, attendees can feel the beat and experience the rhythm of cultural dances and performances during more than 20 presentations throughout the weekend.
Attending the Chicago Travel & Adventure Show is an adventure in-and-of-itself and presents activities suitable for the whole family. Guests can ride a live camel or even take SCUBA lessons in a heated dive pool. The U.S. Department of State, as well as Customs and Border Protection will be on hand to provide Passport Acceptance information and Global Entry enrollment to Travel & Adventure Show guests.
The Chicago Travel & Adventure Show will take place on February 8 and 9 at the Donald E. Stephens Convention Center, 5555 N. River Rd in Rosemont, IL. The show opens at 9:30 a.m. Saturday for travel professionals; the public can attend from 10 a.m. to 5 p.m. Saturday and from 11 a.m. to 4 p.m. on Sunday. Attendees can purchase single-day and two-day tickets online now for the discounted rate of $11/$18 with promo code: CHPR20 or on-site for $15/$22. Children 16 and under are free and on-site tickets can be purchased with cash only. For tickets and event information, visit https://travelshows.com/shows/chicago/.
About Unicomm, LLC and the Travel & Adventure Show Series
UNICOMM LLC is an independent business-to-business communications company specializing in originating and managing world-class trade shows and conferences. Unicomm's properties include the nation's largest and longest running series of travel events, the Travel & Adventure Show in Washington, D.C., Chicago, San Francisco/Bay Area, Los Angeles, San Diego, Denver, Philadelphia, Dallas, Boston and Atlanta which is new in 2020.
The Official Travel Agency Partner is AAA Travel, while MSC Cruises and Switzerland are the Major Sponsors. The Supporting Sponsor is Rick Steves' Europe. The Official Cruise Sponsor is Celebrity Cruises, with the Contributing Sponsor being Cruise Planners and American Express Travel Company. Supporters include the Chicago Metropolitan Ski Council and the Parkway Bank Park Entertainment District. The Global Beats Stage Sponsor is the World Cultural Heritage Center. Travel Industry Partners include ATA, PATA – NY Chapter, Wanderful, the US Travel Association, Visit Florida, the Wellness Tourism Association, APTA, the Southeast Tourism Society, the Alaska Travel Industry Association, Millennials in Travel, IGLTA, the Cruise Lines International Association, the Family Travel Association, The Travel Institute, Europe Travel Commission, the Louisiana Travel Association, the Caribbean Tourism Organization, Destination Wedding and Honeymoon Specialist Association, the Wellness Tourism Association, and the American Society of Travel Advisors. Media Supporters include Inside Travel Report and JaxFax Travel Marketing. The prize booth drawing sponsor is Pigeon Forge Tennessee.