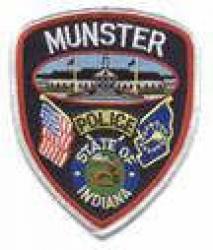 Although the National Night Out has been postponed to October, the awards were presented this past week to this year's recipients:
 DAVID NELLANS served on the Munster Town Council for twenty years. He has also been active with the Choice Community Council, Munster Lions Club, Munster Rotary Club, and has assisted with planning many National Night Out events over the past number of years. David and his wife Paula also sponsored our Daren the Lion mascot costume for the D.A.R.E. Program and he will soon be serving our community through the police department's Volunteers in Police Service (VIPS) Program.
 PATTY PFISTER is a Munster High School alumni and regularly attends and supports our schools' and police department's community events throughout the year. She is an extremely helpful, kind, and positive member of our community who is respected by everyone who knows her.
 THOMAS SROKA has served as one of our department's Volunteers in Police Service (VIPS) for the past several years, and has consistently served the public with great professionalism while providing vacation checks, funeral escorts, and extra patrol of neighborhoods and business districts.
 GERBER COLLISION & GLASS has served as a regular and enthusiastic supporter of our National Night Out activities during the past several years by providing free snow cones and popcorn to our many participants throughout the evening. They have become a very important part of our event each year.

Congratulations to each of our Citizenship Award winners this year. We appreciate their service and support of our community policing programs and their fellow residents throughout the year!