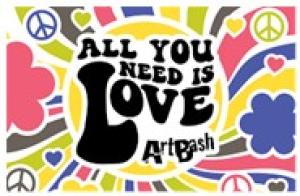 Lubeznik Center for the Arts (LCA) will hold its annual ArtBash gala on Saturday, June 24, 2023, at 5:30 p.m. with an "All You Need Is Love" theme.
Blue Chip Casino Hotel Spa in Michigan City, Ind. will be especially groovy that night, as the invitation to the gala suggests that you "ditch the square black tie, let your freak flag fly and wear your funky threads to this year's far out 60s-themed ArtBash gala!"
Festivities will include dancing, art making, a photo booth, a silent auction and an elegant buffet dinner with an open bar.
ArtBash is LCA's premier fundraiser and plays a critical role in the organization's efforts to ensure everyone in the community has access to high-quality cultural experiences. The gala helps support LCA's mission to integrate art, education and community to provide access to compelling exhibitions and programs that explore contemporary ideas.
"Yes, the gala is vital to raising money for the myriad of programs we offer free to the community, but it's also FUN!" says Janet Bloch, LCA's executive director. "The food and décor are fantastic. We have an amazing DJ, and the atmosphere is casual and inviting. If you haven't bought a ticket yet, please consider attending!"
Tickets can be purchased online at LubeznikCenter.org/Events, at LCA or over the phone at 219-874-4900. Sponsorship opportunities are also available. Contact Janet Bloch, executive director, at 219-874-4900 or jbloch@LubeznikCenter.org for details.
Attendees interested in staying at Blue Chip the evening of the event can book a hotel room for a discounted rate through June 1 by booking online at BlueChipCasino.com/Groups and using promo code GAB0625.
LCA's 2023 ArtBash: All You Need Is Love Gala is generously sponsored by - MonoSol, NIPSCO/NiSource, Bulk Equipment, General Insurance Services, GreatNews.Life, Harbour Trust & Investment Management, McDonald's of LaPorte County, Michigan City Paper Box Company, Purdue University Northwest, Stranco and The Times Media Company.
About Lubeznik Center for the Arts
Lubeznik Center for the Arts is a 501(c)(3) non-profit that provides access to compelling exhibitions and programs that explore contemporary ideas. The organization is located at 101 W. 2nd Street at the lakefront in Michigan City, Ind. Admission is free year-round.
LCA Hours (Central)
Monday, Wednesday, Thursday, Friday: 10 AM-5 PM
Tuesday: Closed
Saturday & Sunday: 11 AM-4 PM