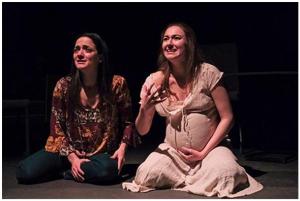 When there's a disaster or a catastrophe somewhere in the world affecting lots of people – a war, a bombing, a mass shooting, an earthquake, a hurricane – it is individual stories which help us to understand what happened.  The "Dirty War" waged by the Argentine military junta against their own people is one of those events. 
In an effort to bring attention to their children who 'disappeared', never to be seen again, the mothers of Argentina organized and marched in front of the presidential every Thursday from 1976 to 1983.  Many of the 'disappeared' young women were pregnant.  After their babies were born, they were forced into an airplane which flew out over the Atlantic, where they were pushed out into the sea.  The babies were given to officers and prominent supporters of the government.  Thirty some years later, many of those mothers are still searching for their grandchildren.  
Gabriela (Cruz Gonzalez-Cadel), who was born and raised in Buenos Aires, is the first woman to be principal cellist with the Chicago Symphony Orchestra.  Gabi and her husband, Marty (Nate Santana), an up-and-coming architect, are getting used to life with a baby.  When their Nanny unexpectedly quit, her mother, Soledad (Katie Barberi), in Chicago for a short visit, ended up staying for several months.
Gabi is practicing her cello, Marty is cooking dinner, and Soledad, who is rather high maintenance, is drinking lots of wine, criticizing the cook and demanding that Gabi play a certain song.  When someone says something to offend her, she marches off in high dudgeon returning shortly with her suitcase.  Since it's her birthday and she'd invited a stranger she met somewhere to her party, she allows Gabi to apologize and agrees to stay. 
When Cesar (Esteban Schemberg) arrives, he's not alone.  His guest, Carolina (Alba Guerra), is delighted to meet Gabi, who she'd read about in a magazine.  In fact, she asked her to autograph a copy.  Asked to tell a story, Cesar talks about the day he learned he was a child of the disappeared.  His story upsets Gabi, who rushes out of the room, breaking up the party.  When Gabi looks in the bag Carolina left behind, she finds a picture of a girl who looks just like her.  In fact, Carolina has several pictures of that girl.  Eventually Gabi confronts her mother asking for the truth, but it's not something she wanted to hear.   
In a something like flashbacks, the audience learns a little about Carolina's daughter, Belen (Ilse Zacharias) and what happened to her in prison.  By the way, Zacharias also played the part of Belen in in The Madres.
Coincidentally, Cruz Gonzalez-Cadel was born and raised in Argentina, coming to Chicago about ten years ago to join the acting community.  She told me that she was honored to be cast to play a character like Gabriela.  She also told me that Alba Guerra and Esteban Schemberg are also native Argentinians. 
The Teatro Vista production of "The Abuelas" runs through March 17th at Victory Gardens, 2433 N. Lincoln Ave., Chicago.  Valet parking is available.  Running time is two hours with an intermission.  Performances are Thursday through Saturday at 8:00 pm; Sunday at 2:30 pm.  Tickets range from $20-$35.  FYI (773) 871-3000,  www.teatrovista.org or www.victorygardens.org.