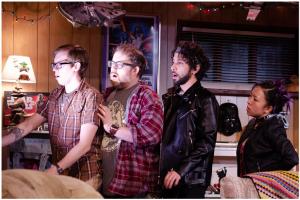 The play begins with the Star Wars theme music, but the accompanying graphics scrolling up the screen tell us about those adults who collect children's toys who will do anything – ANYTHNG – to add to that collection. 
At first glance, Dave Bullanski (Eric Eilersen), whose living his mother's basement, looks like a total loser.  He has an awesome "Star Wars" collection displayed on shelves around the basement, a jury-rigged projection system, and a locked cabinet full of Star Wars treasures, but he doesn't have a life.  His Mom (voiced by Joe Foust) frequently yells down the stairs asking embarrassing questions and the cat pees on his stuff. 
When Dave's best friend, Max Farley (Bobby Richards), comes over, he's a nervous wreck – and grossed out by the smell of cat pee.  When Dave gives him a ski mask, Max has a hissy fit because he was supposed to have a Chewbaca mask, so Dave has to calm him down by reminding him of the twelve million dollars they will get when they sell the Star Wars merchandise they're planning to steal.     
When another childhood friend, Carter Sloan (Alberto Mendoza) and his girlfriend, Kendra Johnson (Sephanie Plum), arrive, Kendra decides to be offended by the cat pee smell on all the copies of the Plan which Dave distributes.  The Plan lays out each step in the robbery they are planning.  To get everyone back on track, Dave unlocks and opens his cabinet full of Star Wars treasures.  The guys are in awe, but Kendra says she doesn't see the point of collecting Star Trek toys, a comment that engenders gasps from all three guys. 
Once everyone dons their black jumpsuits, ski masks and gloves, Dave, Carter and Kendra jump on their motorcycles, Max into a van and they leave for the warehouse.  Later, Max returns to Dave's basement in a state of total panic.  In the midst of his pacing, the special red phone rings, so he takes it off the hook.  A while later, Kendra and Carter return.  Hysteria threatens when Kendra and Max learn that Carter has a bullet wound. 
Finally, Dave returns.  By comparison, he's cool and calm because when everything went bad, he hid in a closet in a corner of the warehouse.  While there, he found a safe, opened it, and found a one-of-a-kind treasure – kind of the Holy Grail of Stars Wars toys – Boba Fett with a removable helmet. 
Just then, Kendra sees the phone off the hook, throws a fit and hangs it up.  It rings immediately so she answers, and tells her contact, that they everything went wrong but they may have something he'd want.  When The Big Man (Joe Faust) comes over, he's very upset with them, and The Big Man is not someone anyone would want upset! 
The conclusion of "All Things Childish" is poignant, funny and ultimately nerdish, went places I never saw coming.  At the end, Dave sits down to watch the original Star Wars movie.  What a fun show!
"All Childish Things" runs through February 24th at the Mayslake Peabody Estate, 1717 31st St., off Rt. 83, Oak Brook.  Parking is free.  Running time is 1 hour, 55 minutes, with an intermission.  Performances times are Wednesdays at 8:00 pm; Thursdays at 3:00 and 8:00 pm; Fridays at 8:00 pm; Saturdays at 4:00 and 8:00 pm; Sundays at 3:00 pm.  Tickets range from $34-$44.  FYI (630) 986-8067 or www.firstfolio.org.