As we watch a movie/play, we all know the clues that someone is going to die – the creepy music; the guy with a scary mask and/or a chain saw hiding behind the door; the guy in the red shirt (because red shirt guys always die) doing something brave and foolish – right?  One thing to remember as you watch this mystery unfold - Agatha Christie stories are never that obvious.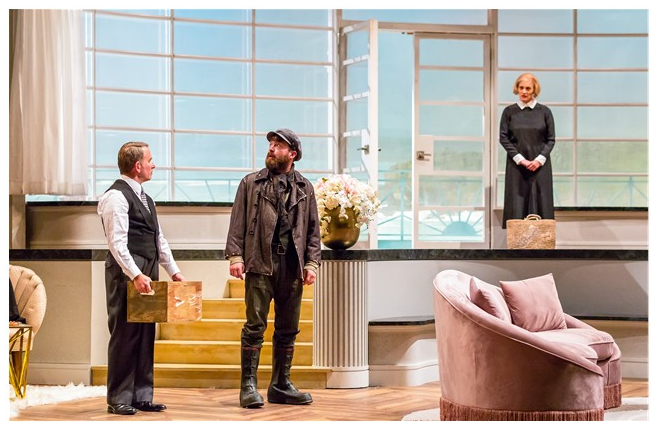 In "And Then There Were None", ten strangers are invited for a weekend house party on the island home of U.N. Owen.  The butler/houseman, Rogers (Paul Tavianini), and cook/housekeeper Mrs. Rogers (Jennifer Engstrom), have been sent ahead to open the house.  Boatman, Fred Narracott (Casey Hoekstra), not only delivers the weekend's  supplies, he also brings the guests.  Both servants sneer as Vera Claythorne (Cher Alvarez), J.N. Owen's secretary arrives, since they're sure she'll put on airs.
Most of the guests – Sir Lawrence Wargrave (Matt DeCaro), Emily Brent (Marilyn Dodds Frank), Anthony Marston (Zachary Keller), Philip Lombard (Yousof Sultani) and General MacKenzie (Bruce A. Young) – arrive wearing conservative traveling costumes.  When William Blore (Paul-Jordan Jansen), his attire, his flashy suit marks him as lower class. 
Most of the guests are outraged when Vera informs them U.N. Owen has been delayed and will not be arriving until the morning.  Making the best of it, they have drinks, then retire to change for dinner.  Wearing evening clothes (except for Mr. Blore), the guests are enjoying pre-dinner drinks when a recording begins to play, mentioning each person and the murder he/she is accused of committing.   By the way, above the mantle, there's a painting of a poem called "Ten Little Soldier Boys" which gruesomely recounts how each died.  Directly below that are 10 identical statues.    The voice on the recording, announces that just like the Soldier Boys, they will die, one by one, for their crimes.  I won't reveal any more about the story because I don't want to spoil the mystery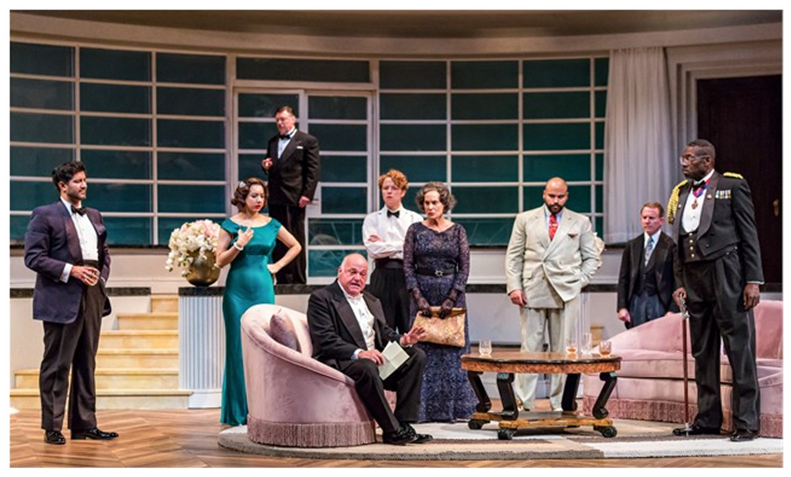 "And Then There Were None" is one of the best staged plays I've seen in quite a while.  Drury Lane Scenic Designer Andrew Boyce has turned the DL stage into an elegant art deco drawing room with just the right amount of furniture and a panoramic wall of windows overlooking the water.  Jessica Pabst has created costumes straight out of the '30s.  Vera's dresses were very glamorous while Emily Brent's were rather dowdy.  The men's costumes ranged from Blore's flashy suit to a British general's dress uniform.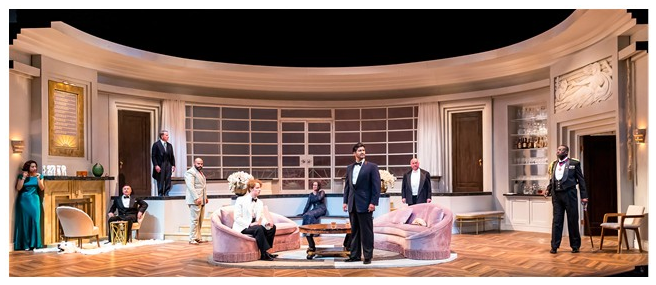 "And Then There Were None" runs through September 1st at Drury Lane Theatre, 100 Drury Lane, Oakbrook Terrace.  Parking is free, valet is also available.  Running time is 2 hours, 15 minutes, with an intermission.  Performances are Wednesdays at 1:30 pm; Thursdays at 1:30 and 8:00 pm; Fridays at 8:00 pm; Saturdays at 3:00 and 8;00 pm; and Sundays at 2:00 and 6:00 pm.  Tickets range from $50-$65.  FYI (630) 530-0111 and www.drurylanetheatre.com.